Rio Olympics Bet on Flip-Flops to Hit $420 Million Target
Tariq Panja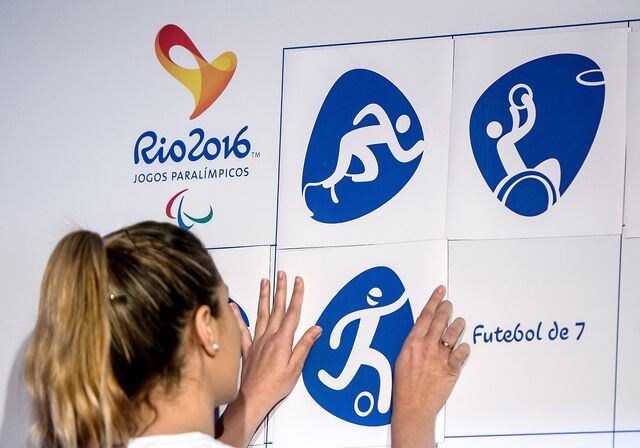 Organizers of the 2016 Olympic Games in Rio de Janeiro are banking on the popularity of flip-flops and a yet-to-be-announced cuddly mascot to help meet a target of 1 billion reais ($420 million) in total merchandise sales.
The Rio 2016 organizing committee is halfway through completing 65 licensing agreements with companies that will produce and sell 12,000 games-related products, more than for any previous Olympics. About 16 percent of the total sales will go toward raising the 7 billion reais needed to stage the event.
"It's stretching it almost as far as we can go," Rio 2016 Licensing Director Sylmara Multini said in an interview in Rio.
As well as targeting companies to make products including a bracelet that will send a signal to mobile phones every time a Brazilian wins a medal, Rio 2016 is selling licenses to run 150 temporary stores.
Multini said choosing the right mascot for South America's first Olympics will go a long way toward determining the success of selling Olympic gear. The identity of the mascot for the Summer Games will be announced next month.
Multini said there were specific reasons why Fuleco, an armadillo mascot used by FIFA, failed to stir up much interest before or during this year's soccer World Cup. Fuleco was burned by demonstrators at some pre-World Cup protests.
"In my opinion, the name was a challenge and I think because of the political moment of Brazil they decided to step back with the mascot," said Multini. "I think we're coming in at a different moment. I truly believe people are going to engage with our mascots."
TV Help
Multini listed the mascot as a probable best seller and said organizers are in talks with local TV companies about creating a cartoon series.
Brazil's target would mean $67.2 million in revenue toward staging the games, less than half the record $163 million that licensing contributed to the 2008 Beijing Games and the $129 million generated for the 2012 London Games.
Multini, who worked with U.S. companies including Walt Disney Co. and toymaker Mattel Inc. before joining Rio 2016, said up to 40 percent of sales will be products for children between the ages of four and eight.
"I think the purchase for kids is greater in Brazil than any other country I've seen in Latin America and sometimes even more so than the U.S.," she said. Sales to that category "might be the highest in the history of all Olympics."
Domestic Sales
About 90 percent of games merchandise is aimed at the domestic market. With Rio's oceanside location, a heavy emphasis is going toward products like sandals, beach towels and sarongs.
"We believe we can sell millions of sandals," said Multini, who revealed she's close to striking a deal with one of Brazil's biggest flip-flop brands. "You got the London Games, zero flip-flops were sold, and here it might be our number one product."
Sales are expected to be slow until the games near, with little money currently being spent toward publicizing the event that begins Aug. 5, 2016.
"Historically 80 percent of the sales happen in the last year," said Multini. "In prior games, some categories decided to launch early but usually not successfully because the hype is just not there."
Before it's here, it's on the Bloomberg Terminal.
LEARN MORE