Everybody Hates the New Wendy Davis Ad. That Doesn't Mean It's a Failure.
Can a campaign ad work if it offends everyone? How can it not?
By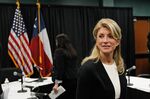 The ad is titled "Justice," and it marks a sort of break between Wendy Davis and the national progressives who've hyped her campaign for governor of Texas. It opens with the image of a wheelchair, its user unseen. "A tree fell on Greg Abbott," rumbles a narrator. "He sued and got millions. Since then, he's spent his career working against other victims."