Congress Rushes to Increase Funding to Combat Ebola
Lawmakers are moving swiftly in the wake of reports that spending cuts prevented the creation of a vaccine.
By , , and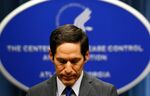 Hours after the head of the National Institutes of Health declared that the United States would have already produced an Ebola vaccine if federal health budgets had not been slashed over the past decade, Congress is scrambling to increase funds to try and combat the deadly virus. 
A bipartisan plan to increase the amount of money Congress allocates to agencies such as the N.I.H. is now a top priority in the appropriations committees of the House and Senate, according to an anonymous Democratic Senate aide who spoke to Bloomberg News. The injection of new dollars would be added to a funding bill aimed at keeping the government running past December 11. 
In an interview with the Huffington Post, N.I.H. director Dr. Francis Collins said that a vaccine could have been readied years ago, if not for funding cuts started during the administration of President George W. Bush and continued during President Obama's time in office. 
"NIH has been working on Ebola vaccines since 2001. It's not like we suddenly woke up and thought, 'Oh my gosh, we should have something ready here,'" Collins told the Huffington Post. "Frankly, if we had not gone through our 10-year slide in research support, we probably would have had a vaccine in time for this that would've gone through clinical trials and would have been ready."

With a second Ebola case confirmed in Texas, and more likely to follow, the federal government is under fire to find a way to stop a mutating virus in its tracks. 

"We have to rethink the way we address Ebola infection control. Even a single infection is unacceptable," Centers for Disease Control and Prevention Director Tom Frieden said Monday in a conference call with reporters. 
While the N.I.H.'s budget rose 7.7 percent in 2013 when compared with the funding it received a decade earlier, the consumer price index rose even faster—at a rate of 24 percent—effectively representing a budgeting decline. Sequestration cuts were responsible for slashing the agency's budget by 5.2 percent, government figures show. 
This year, the U.S. has so far committed to spending $1 billion to combat Ebola in West Africa, with $750 million of that money earmarked to help build isolation units and field hospitals, as well as to train health-care workers. 
Some Republican lawmakers, however, are renewing calls on the White House to issue travel restrictions on people entering the country from nations where Ebola is widespread. 
"We are once again asking the administration to re-establish a viewpoint about stopping these flights to the U.S., to give Dallas, Texas, and other communities a chance to catch up and work through this difficult problem," Representative Pete Sessions told CNN. 
Frieden once again rejected that proposal, saying that flights to and from West African nations were essential to help fight control the spread of the virus. 
"It may make it much harder to stop the outbreak at its source," Frieden said at a Monday briefing. "The way we're going to reduce threats to Americans is stopping" the disease in Africa, he added. 
President Obama, who received a morning briefing on the country's Ebola response efforts, ordered the CDC to conduct a speedy review how nurse Texas Health Presbyterian Hospital Dallas contracted Ebola from Thomas Eric Duncan, the patient who died last week from the virus.