Fiat Chrysler Moves to NYSE in Challenge to Detroit Two
Mark Clothier and Madeline O'Leary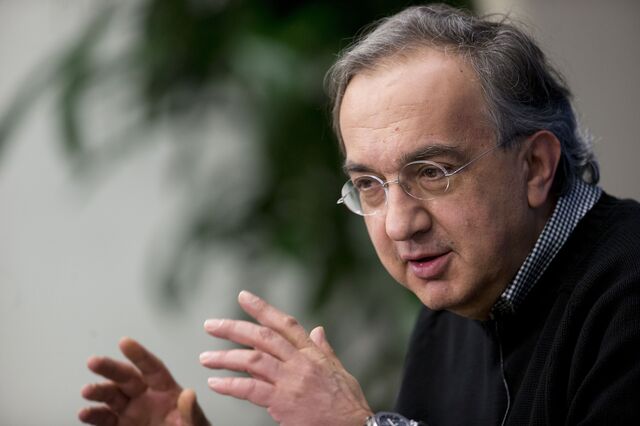 Fiat Chrysler Automobiles NV rose in its New York Stock Exchange debut, which gives U.S. investors more opportunity to tap into the rising global market for cars and trucks and to take a chance on a debt-burdened automaker.
The shares gained 1.8 percent to $8.92 at the close in New York. Fiat Chrysler stock yesterday moved to the NYSE as its primary market from the Milan stock exchange and is trading under the FCAU ticker after closing on Oct. 10 at the equivalent of $8.76 a share. The new Fiat Chrysler, with ambitions to increase vehicles sales by almost 60 percent, will be legally registered in the Netherlands with a London headquarters.
The combination of Auburn Hills, Michigan-based Chrysler Group LLC with Turin, Italy-based Fiat SpA forms the seventh-largest global automaker. It lacks a large presence in China and its debt load could impede growth by limiting further merger options. And yet Fiat Chrysler ranks No. 4 in the lucrative U.S. market, where it has increased sales for 4 1/2 years.
The company offers exotic sports cars by Ferrari and Maserati, efficient Fiats, and comfortable minivans. It also has Ram pickups and the iconic Jeep sport-utility vehicle brand to line up against U.S. rivals General Motors Co. and Ford Motor Co.
"As a car company, as a global producer of vehicles, I think we're fully equivalent to the other Detroit two," Chief Executive Officer Sergio Marchionne told reporters Oct. 10 in metro Detroit. "And the objective in coming to New York as a stock listing is really to get us evaluated and benchmarked against them."
Increased Visibility
Being traded in New York increases Fiat Chrysler's exposure to the financial community, said Joe Phillippi, president of AutoTrends Consulting. It gives U.S.-focused investors more opportunity to buy into the automaker Lee Iacocca once saved and that was salvaged out of bankruptcy in 2009 by Marchionne and Fiat.
"Trading in Milan dramatically limits interest. Trading in New York, in fact, opens up the company to retail investors, and probably to certain types of institutional investors, too," Phillippi said by telephone. "A lot of people remember the Chrysler of the late '80s and into the '90s, when the stock did extraordinarily well on its own."
Marchionne said last month that he sees the potential to create a new No. 1 in the auto industry. The capital required to develop and produce new vehicles will necessitate consolidation, he said.
Little Flexibility
Fiat Chrysler "will be ready to participate" in industry consolidation that might take place over the next five to 10 years "if it makes sense," said Chairman John Elkann, 38, scion of the company's founding Agnelli family. He hired Marchionne in 2004, when the Turin-based manufacturer was near bankruptcy.
"We don't need to participate in the consolidation," Elkann said to reporters in New York yesterday, before ringing the exchange's ceremonial closing bell with Marchionne. "If there was the right opportunity definitely that would be something we would take very seriously."
For now, with Fiat Chrysler carrying $12.3 billion in industrial debt, major combinations aren't realistic, said Richard Hilgert, an analyst with Morningstar Inc. in Chicago.
"There's no funding available to make purchases for the time being and the debt acts like a poison pill to any prospective buyers," he said.
More Competitive
Fiat Chrysler combined is better able to compete with heavyweights such as GM, Volkswagen AG and Toyota Motor Corp. Marchionne said last month that the typical pre-listing road show for investors will take place later this year.
The automaker's new board will meet in late October and evaluate its capital structure, including weighing the possibility of issuing new stock, Marchionne has said. The company filed Oct. 10 for a possible sale of shares held in treasury.
Marchionne has ambitious plans for the combined company, aiming to increase net income fivefold to about $6.3 billion (5 billion euros) in 2018, backed by a $61 billion investment program that calls for more upscale vehicles and doubling worldwide Jeep sales by pushing the off-road brand beyond its American roots.
Battle For Sixth
He sees Fiat Chrysler climbing a spot to sixth place in the global ranking by expanding sales. Fiat Chrysler has said it will sell 7 million cars in 2018, compared with last year's 4.4 million. Ford is currently sixth-largest, with 6.3 million cars and trucks sold last year. CEO Mark Fields set a goal of increasing vehicle sales by more than 3 million by 2020.
Whether Fiat Chrysler can crack the top six, it's a much stronger company now than either Fiat or Chrysler Group would be without teaming up.
"Chrysler and Fiat together are very different than they were," David Cole, chairman emeritus of the Center for Automotive Research in Ann Arbor, Michigan, said in an interview. "Just from a Chrysler perspective, the company has had very strong sales in the U.S. in recent months. A few years back, the quality of the product was suspect. But Chrysler has dramatically improved its products across the board."
Investors are skeptical of Marchionne's lofty targets. The shares fell 12 percent the day after Fiat Chrysler executives laid out what Marchionne said will be his last five-year plan. Of the 32 analysts who've followed the stock while it traded in Milan, 11 recommend buying it.
Among analysts' concerns are the ability to expand Jeep in Europe and Asia and whether Alfa Romeo can become a luxury auto brand able to compete with top German makes: Mercedes, BMW and Audi.
Chrysler's Homecoming
While Hilgert says the shares are under-valued and should trade for $18, he cautioned that the stock isn't for everyone.
"Only investors willing to accept the risk of a turnaround company with a highly leveraged balance sheet, operating in an industry that is cyclical, capital-intense and highly competitive should consider owning the shares," Hilgert wrote in a note to investors Oct. 9.
Marchionne, who saved Fiat 10 years ago, then Chrysler five years ago, said it's only fitting that the maker of Jeep Grand Cherokees, Chrysler Town & Country minivans and Viper sports cars would be traded again in New York. Chrysler Corp. left the exchange when it merged with Daimler-Benz AG in 1998.
"Chrysler has come home," he said. "Someone took it off this market in the late '90s when Daimler bought it and it's come home."
Before it's here, it's on the Bloomberg Terminal.
LEARN MORE