Islamic State Moves to Encircle Kobani, Push Into Town
Selcan Hacaoglu and Clea Benson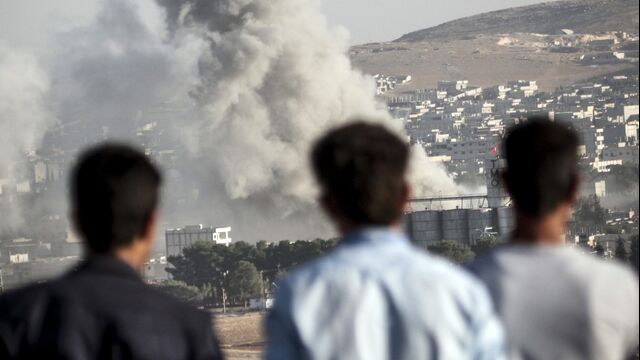 Islamic State militants pushed deeper into Kobani amid a round of U.S. airstrikes that sought to prevent them from encircling the besieged Syrian town.
Six U.S. airstrikes near Kobani today and yesterday struck an Islamic State fighting position and damaged buildings and trucks, according to a news release from the U.S. Central Command.
The jihadists now control almost half of the town on the frontier with NATO-member Turkey, including an area housing administrative and security buildings, the U.K.-based Syrian Observatory for Human Rights said in a statement yesterday, citing a witness. Amid clashes with Kurdish forces defending Kobani, the militants were advancing along the street that divides the eastern and western parts of the town, and were also at its southern entrance, the observatory said.
From the Turkish border, Islamic State fighters could be seen moving toward the northeast of Kobani, seeking to complete its encirclement.
"We are hearing from officials in Kobani that reinforcements for the Islamic State were on their way," Faysal Sariyilkdiz, a Kurdish lawmaker in the Turkish Parliament, said today. "The U.S. should stop those reinforcements in the plains before they could reach Kobani."
Militants' Grip
The fall of Kobani, also known as Ayn al-Arab, would extend Islamic State's grip over a stretch of the Syria-Turkey border. It would also deliver a blow to Kurdish autonomy in the region that has deepened as the Syrian government lost control of large swaths of land to rebels during the country's civil war.
Kobani has been besieged for more than three weeks, and the United Nations says more than 170,000 people have been forced to flee their homes. Temporarily pushed back by airstrikes carried out by a U.S.-led coalition, Islamic State has resupplied its fighters with arms and sent in reinforcements, according to the observatory.
The group has declared a caliphate in territory it controls stretching from northern Syria to the outskirts of the Iraqi capital, Baghdad. The observatory estimates that at least 554 people have died in Kobani since the Islamic State incursion began Sept. 16; about 298 were Islamic State militants and 226 were Kurdish fighters. About 20 civilians have been killed, the observatory said today in an e-mailed statement.
Massacre Fears
As many as 700 elderly people are still trapped in the center of Kobani, Staffan de Mistura, the United Nations special envoy for Syria, told reporters yesterday in Geneva. Along with 12,000 other civilians and Kurdish fighters, they are likely to be killed if the international community allows Kobani to fall, he said.
De Mistura appealed to Turkey to allow Kurdish fighters and their equipment into Kobani and to "contribute to a self-defense operation" as coalition airstrikes alone "may not be enough to save the city."
Turkey has placed troops on the border and says it will allow only humanitarian supplies to cross. The military said in a statement that army units fired warning shots at a group in Syria that approached the border on Oct. 9.
PKK Talks
Kurds have protested this week in Turkey's main western cities and its southeast over what they say is the Turkish government's failure to come to the aid of Kobani. The eruption of anger, which left more than 30 people dead amid clashes with security forces, threatens Turkey's bid to end three decades of conflict with Kurdish groups seeking wider rights.
The Kurdish fighters defending Kobani against Islamic State are affiliated to the most powerful Kurdish organization in Turkey, the PKK, which is classified as a terrorist group by Turkey and the U.S. The PKK said it would resume its armed struggle against Turkey if Kurds continue to be killed in clashes with security forces, CNNTurk cited senior PKK commander Cemil Bayik as saying in an interview with German broadcaster ARD.
"If this continues like that, guerrillas will fight to protect our people," Bayik was cited as saying.
Turkey has pledged to join the campaign against Islamic State, without specifying what it will do. Its main goal in Syria has been the removal of President Bashar al-Assad's regime. Turkish Prime Minister Ahmet Davutoglu told CNN this week that troops would only take part in operations in Syria if they were part of a wider U.S.-led strategy against Assad.
Separately, the U.S. conducted three airstrikes against the Islamic State in Iraq today and yesterday, striking a unit and a truck, Central Command said.
Before it's here, it's on the Bloomberg Terminal.
LEARN MORE