Warhol's Screen Sirens, Socialites May Fetch $57 Million
James Tarmy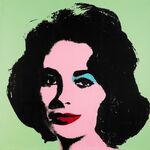 Andy Warhol's Liz, Jackie and Judy may help Sotheby's sell as much as $57 million of his celebrity portraits at its bellwether auctions next month in New York.
A rarely seen silkscreen of actress Elizabeth Taylor, estimated at about $30 million, will lead the Nov. 11 and 12 sales of portraits of seven female actresses, singers and socialites. The 1963 "Liz #3 (Early Colored Liz)," one of Warhol's earliest of the late movie star, has been on public view only once since 1972.
Joining her are silkscreens of Brigitte Bardot, Marilyn Monroe, Deborah Harry, Jacqueline Kennedy, Judy Garland, and the socialite Sao Schlumberger. The seven lots are valued by Sotheby's at $48.2 million to $56.6 million.
"Warhol has international appeal," says Suzanne Gyorgy, head of art advisory and finance at New York-based Citigroup Inc.'s Citi Private Bank. "That kind of art is in a league of its own."
"Liz #3" was exhibited with five other portraits of the actress from the same series in one of Warhol's first shows at the Contemporary Arts Center in Cincinnati in 1963.
Seven years later, Warhol chose "Liz #3" for his first major international retrospective at the Pasadena Art Museum in California, which is now the Norton Simon Museum. The show subsequently traveled to the Tate Gallery in London and the Whitney Museum of American Art in New York.
Private Collector
It was purchased by a private collector in Turin, Italy, in 1972, and was seen by the public once, at the Fondation Beyeler in Switzerland in 2000, Sotheby's said.
Bardot's portrait is from the estate of her ex-husband, the industrialist Gunter Sachs. The painting, estimate at $10 million to $15 million, was commissioned by Sachs in 1974 and remained in the family collection until his death in 2011, Sotheby's said.
The 1974 picture of Sao Schlumberger, composed of four separate portraits of the arts patron and haute-couture client, also remained in the possession of its original buyer. Warhol had sought out Schlumberger to make the portrait.
Estimated to sell for $2 million to $3 million, the painting was consigned to Sotheby's as part of its 90-piece Schlumberger collection sale, which will be incorporated into Sotheby's November auctions.
"All of our Warhols are women and come from different households and circumstances," said Alex Rotter, co-head of Sotheby's contemporary art department.
Price Range
Compared together, the paintings provide insight into the range of prices that Warhol's work commands.
"We live in a marketplace where the freshness and mystery of a painting is combined with the perfect provenance," Rotter said. "Those qualities add enormous value to the works."
The Bardot is estimated to sell for $15 million to $20 million less than Taylor because "it was painted 11 years later, and there's a difference in fame quality," Rotter said. "For some people Brigitte Bardot was the sexiest and most unbelievable woman in the world. Some people don't really know that."
The other early Warhol in the group is the portrait of Kennedy from 1964. "Jackie" is estimated to sell for $1.5 million to $2 million. The 1978 multicolor silkscreen of Garland is valued at $1 million to $1.5 million. The pink and black image of Monroe from Warhol's 1979-1986 "reversal series," when he produced silkscreens that looked like negatives, is expected to fetch $1.2 million to $1.8 million.
A 1980 silkscreen of Harry, lead singer of American punk rock band Blondie, has a high estimate of $3.5 million.
Before it's here, it's on the Bloomberg Terminal.
LEARN MORE