Portugal's ESFG Files for Bankruptcy on Failed Protection
Joao Lima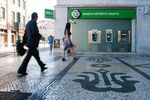 Espirito Santo Financial Group SA, part of a Portuguese family empire that unraveled in the wake of soured loans, was forced to file for bankruptcy after a court rejected a request for creditor protection.
The board's decision follows a ruling by a Luxembourg court on Oct. 3, rejecting the July request, ESFG said in a regulatory filing today. While Banco Espirito Santo SA, formerly partly owned by ESFG, received a 4.9 billion-euro ($6.3 billion) rescue by the Bank of Portugal in August, the court ruled a restructuring of ESFG was "impossible."
ESFG was forced to seek creditor protection, joining parent companies Espirito Santo International SA and Rioforte Investments SA, after failing to meet debt obligations following the disclosure of losses on loans across the holding company. Banco Espirito Santo, once Portugal's biggest bank by market value, was bailed out on Aug. 3, with the central bank moving deposit-taking operations and most assets to a new company called Novo Banco SA.
ESFG expects the court to consider a bankruptcy order and appoint one or more receivers at a hearing tomorrow.
The company is part of the Espirito Santo family holding structure with roots in 1869. Members of the family dropped out of a list of the 25 richest people in Portugal for the first time in at least 10 years in 2014, Exame magazine reported.
No Money
Espirito Santo International owns Rioforte, which controls 100 percent of Espirito Santo Irmaos SGPS SA. That company owns 49 percent of ESFG, which held the stake in the bank.
Following the bank's bailout, the Bank of Portugal's Resolution Fund owns Novo Banco and the rescue is to be repaid by an eventual sale. Junior creditors stayed with the old bank, which is getting no state money, until it can be shut down.
The court rejected the option of a restructuring of ESFG due to the measures applied by the Bank of Portugal to Banco Espirito Santo and the sale of ESFG's stake in insurer Companhia de Seguros Tranquilidade SA, ESFG said on Oct. 3. Novo Banco said on Sept. 16 it agreed to sell insurer Tranquilidade to private-equity firm Apollo Global Management LLC for an undisclosed price.
Swiss regulators have also started bankruptcy proceedings against Banque Privee Espirito Santo SA while ES Bankers (Dubai) Ltd. froze deposits, attributing the decision to the failure of Banque Privee to repay debts. Both the Swiss and the Dubai banks are owned by ESFG.
The Luxembourg court hasn't made a decision yet on Espirito Santo International and Rioforte Investments requests for creditor protection, according to ESFG.
Before it's here, it's on the Bloomberg Terminal.
LEARN MORE