Bitcoin: Not Just for Libertarians and Anarchists Anymore
Bitcoin draws consumers and businesses even as its value slides
by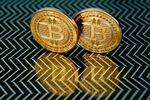 Mary Fons joined the Bitcoin economy earlier this year. She uses the digital currency to buy gift cards and office supplies. Her partner reimburses her with Bitcoin for his portion of the rent. Unlike many of the currency's early adopters, Fons, 35, isn't a nerd or a self-proclaimed libertarian. She lives in New York and co-hosts the Love of Quilting show on public television. "Why Bitcoin?" she asks. "Because I want to have options. I think it's a beautiful thing open to everyone."
Even as the value of Bitcoin has fallen 55 percent this year against the dollar (price on Oct. 8: $344), consumers are embracing the digital currency. People have opened 41 million Bitcoin accounts worldwide, according to the Bank of England. Parents are dispensing allowances in Bitcoin to teach their kids to be digital citizens. Marijuana smokers are buying buds from Bitcoin-enabled vending machines. Consumers in emerging markets such as Brazil and Russia are starting to use Bitcoin to hedge their volatile currencies. While the total value of Bitcoin commerce isn't known, Gil Luria, an analyst at Wedbush Securities, estimates global spending on goods and services using the currency has doubled in the past year.
New and updated apps and digital wallets make using it easier. Mainstream companies—more than 75,000, say payment services Coinbase and BitPay—accept it. Consumers can use Bitcoin to pay Dish Network for TV service, Expedia for hotel rooms, and Dell for PCs. So-called Bitcoin Boulevards, where retailers take the currency, have opened in The Hague's World Canal area and in Cleveland Heights, Ohio, where participating businesses include Mitchell's Fine Chocolates and Shawn Paul Salon.
By far the most popular virtual currency, Bitcoin was created in 2008 by the mysterious Satoshi Nakamoto, a programmer or a group of programmers. Most currencies are managed by central banks. Bitcoin has no central administrator; a network of computers run by volunteers validates transactions, which require encrypted electronic signatures. While advocates see digital currencies as the money of the future, Bitcoin will have to overcome a number of hurdles, including concerns about security, before becoming widely accepted.
The first Bitcoin users were mostly investors seeking to profit from the currency's wild swings, libertarians drawn to the freedom from government control, and tech geeks who deem paper money and credit cards antiquated. In recent months, Bitcoin has attracted a more mainstream demographic, says Lui Smyth, a researcher at University College London's anthropology department, who surveyed users last year and again this spring. In 2013 more than 42 percent of the 1,000-plus people who took the online survey professed to be libertarians and anarcho-capitalists who favor the elimination of the state. This year only 22 percent of about 400 respondents described themselves that way. "You got a wider spread of age, a wider spread of gender" among Bitcoin users, Smyth says. "Politics has gotten less important in getting people to join."
The blog TheBitcoinWife.com publishes articles about using Bitcoin in daily life. A book series called Bitcoin for Kids explains the underlying concepts to children. Ten-year-old Jaden Shelton of Fairfax, Va., who wrote The Scary Blueberry, about a kid afraid to try new foods, sells the book for $8.99—or $5.99 for those paying in Bitcoin. He says about 40 Bitcoin users have bought copies so far. Shelton's father, Zach, has been giving his kids their allowances in Bitcoin for about six months. "If I was a father in 1995, I'd want my children to learn programming and to navigate on the Internet," he says. "Fast-forward about 20 years, and we have this technology."
Seeing the potential to attract a new group of customers, merchants are luring Bitcoiners with discounts. In one promotion, Dell knocked $150 off Alienware computer systems. Most merchants list prices in dollars and use the current exchange rate to calculate the price in Bitcoin. Most also immediately convert Bitcoins into dollars via services like BitPay and Coinbase to protect against swings in the digital currency's value, although a few keep some of the Bitcoins they receive. Electronics Web merchant Newegg offered users $75 off purchases of $300 or more and $150 off orders of more than $500.
Brooke Mallers, a stay-at-home mom with six kids in Evanston, Ill., first spent Bitcoin last fall, when she bought her children Nike and other gift cards for Christmas. In April, she and her husband used Bitcoin to buy patio furniture on Overstock.com; in July, she purchased a Dell gaming computer for the kids. "I have a Ph.D. in English lit," she says. "Neither of us has a technical background. I just like the idea of decentralization, that things are more distributed. We just think it's awesome. We are kind of fanatic about it."
Bitcoin is catching on outside the U.S., too. Peter Surda, an economist in Vienna, uses it two or three times a week to buy everything from food to electronics to plane tickets. "Spending Bitcoin did indeed become easier, because more merchants accept it," he said in an e-mail. "Also, various integration services do the purchases on your behalf, even if the merchants have no idea what Bitcoin is." If anything, using the currency to buy goods and services is even more popular in Europe than in the U.S., says Tony Gallippi, co-founder of BitPay, which is based in Atlanta. "The adoption of the euro is a really good parallel to the adoption of Bitcoin. It's fresh in their mind," he says. "Adding a new currency for them is a very easy task."
Before it's here, it's on the Bloomberg Terminal.
LEARN MORE