Sarah Silverman Ponders Sex Change to Highlight Gender Wage Gap
She highlights an issue Democrats would like to keep front and center.
By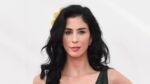 Comedian Sarah Silverman's latest political video is not on behalf of a specific politician. Instead, her new, soon-to-go-viral clip seeks to raise money for the National Women's Law Center, a non-profit group that works to ensure equal pay for women.