Two Faces of the Deflation Debate: Perception Versus Reality
by
The International Monetary Fund yesterday lowered its global growth forecast for a third time in less than a year. And in the past 24 hours, markets have responded in unison. The MSCI World Stock Index has dropped 1.4 percent, ICE Brent crude oil futures have fallen 2.1 percent and global bond yields have fallen to new lows.
In some European countries, two-year yields have even turned negative. Imagine paying indebted governments to hold your money. That's fear -- and a palpable perception deflation has already arrived.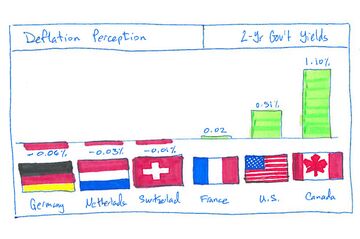 While bond yields represent one side of the debate, economic forecasts provide another. Bloomberg tracks dozens of strategists globally, and provides real-time updates to any changes in economic forecasts. The most recent data indicate world economies are still far from deflating. Third quarter forecasts of real gross domestic product in Europe and North America indicate growth of 1 to 3 percent.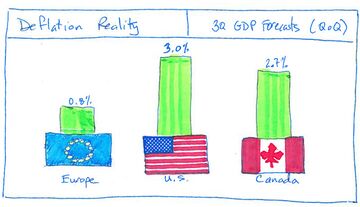 What a difference a chart makes. The U.S. economy is growing 3 percent in real terms, 30 basis points ahead of Canada. (A basis point is 0.01 percentage points.) How curious that pessimism in the bond market has pushed U.S. two-year Treasury yield to half the Canadian rate.
The discrepancy is central to the current investment strategy of BlackRock Chief Investment Officer of Fundamental Fixed Income Rick Rieder. He joined us this morning on Surveillance to explain why he thinks short-term bond yields could rise 50 to 100 basis points.
"I think the U.S. economy is moving in a pretty robust fashion. There are a series of tailwinds in the economy. Energy is a big one. The fact that system has de-levered is a big one. Technology innovation is a big one. The fact that the housing market has bottomed. So the U.S. economy is in good shape."
Rick makes the point that corporations base major decisions about capital expenditures on long-term conditions, not short-term rates. He adds, "Higher short-term rates will not derail the economy provided the Fed manages to anchor the 10-year near 3 percent."
Given real GDP growth at 3 percent and a Federal Reserve committed to "policy accommodation for a considerable period" we agree short-term rates will face upward pressure.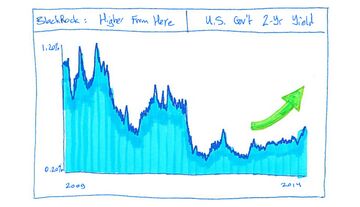 Before it's here, it's on the Bloomberg Terminal.
LEARN MORE