After Its Latest Plunge, Is the Worst Over for Samsung?
By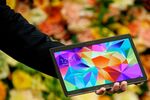 After a rotten summer, investors in Samsung Electronics have been suffering through a rotten autumn. The Korean company's stock price fell to a 52-week low on Wednesday and since early June has dropped 23 percent. To make matters worse, archrival Apple is up 10 percent in the same period.
Today's swoon follows Samsung's announcement on Tuesday that sales in the quarter ended in September fell about 20 percent, with earnings plunging 60 percent, to 4.1 trillion won ($3.8 billion). Samsung hasn't yet revealed details of the results, which will come later this month. Still, chances are good that the once high-flying smartphone business accounts for a good chunk of the bad news.
All year, Samsung has had well-publicized difficulty competing against such upstart rivals as China's Xiaomi and India's Micromax, brands that are producing low-cost phones and winning share in the world's two biggest countries. Samsung's smartphone sales are already lagging behind Xiaomi in China, and while the Korean company retains a lead in India, Micromax is closing the gap quickly.
None of this should come as a surprise to investors, and some analysts say the market is overreacting to the latest set of results. Bernstein Research analysts predicted on Tuesday a "stabilization" in the company's smartphone business as Samsung responds better to the challenge from low-cost rivals. "Looking forward, we take comfort that Samsung is following [an] aggressor strategy in smartphones," they wrote. "Samsung will start to release more competitive products with better specs and lower prices starting in Q4 to stabilize share and begin to gain share back in the low and mid-end range."
The Bernstein analysts also are sanguine about Samsung's ability to withstand the threat from Apple's iPhone 6 and 6 Plus. The Korean company's R&D prowess will help Samsung produce cool designs that consumers will want, the analysts said, such as "improvements coming in the high-end with metal casings and foldable phones."
Another optimist is Peter Yu of BNP Paribas, who sees the coming months as crucial. Samsung "is in the middle of a costly transitional period," he wrote in a report Tuesday, with the company aiming "to run down existing phone inventory and introduce new mobile platforms." This transitional period is not pretty, but Yu argues that investors should be patient. "If well executed," he wrote, the strategy will lead to "meaningful improvement" in earnings of Samsung's mobile business by the middle of 2015.
Before it's here, it's on the Bloomberg Terminal.
LEARN MORE