The U.S. War on the Islamic State, Now on Your Computer
By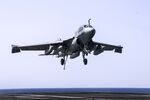 The U.S. government has a new webpage to track its airstrikes in Iraq and Syria, making it easier for you to watch the war against ISIS unfold from your laptop.
 For the past week, the Department of Defense has been posting daily updates online, detailing its effort to destroy the militant group, also known as ISIL. Under the header "Targeted Operations Against ISIL Terrorists"—which officials say is not what they're internally calling the still-unnamed operation—the webpage features an interactive map with summaries of targets, the aircrafts deployed so far, and press releases about the military mission.  
There are also multiple photo galleries that include action shots from recent airstrikes:
To date, there have been about 350 airstrikes by the United States and coalition allies since President Obama authorized missions against the Islamic State in August. In the past two days, there have been five airstrikes in Iraq. American forces conducted nine airstrikes in Syria on Tuesday and Wednesday, the website says, the majority of which targeted areas in and around Kobani, a strategic town bordering Turkey that the radical Islamic group appears likely to control soon.
"Four airstrikes south of Kobani destroyed an ISIL armored personnel carrier, destroyed three ISIL armed vehicles and damaged a fourth, and destroyed an ISIL artillery piece," a post on Thursday stated. "A fifth airstrike, southwest of Kobani, destroyed an ISIL armed vehicle; a sixth airstrike, at the southern edge of Kobani, destroyed an ISIL artillery piece. Two airstrikes northwest of Ar Raqqah successfully struck an active ISIL training camp and associated ISIL fighters. An airstrike northwest of Dayr az Zawr destroyed an ISIL tank."
The Pentagon estimates that the military operation is costing the United States between $7 million and $10 million per day.