Russia Set Aside $83 Billion for Pensioners. Putin Is Using It to Aid Russia Inc.
By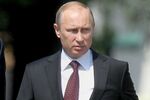 During flush years of high oil prices and economic growth, Russia salted away more than $80 billion in a sovereign wealth fund to ensure the long-term health of the country's pension system. Now the Kremlin is raiding the fund to bail out Russia Inc.
Russian companies and banks are lining up for aid as Western sanctions, capital flight, and the plummeting ruble curb their ability to invest and repay debt. Finance Minister Anton Siluanov told the Itar-TASS news agency last month that state-controlled oil giant Rosneft and private gas company Novatek, both headed by close associates of President Vladimir Putin and hit by sanctions, could get as much as $4 billion apiece from the fund, whose current balance is $83 billion.
Although the exact amount of aid to the two companies hasn't been confirmed, Vice Premier Arkady Dvorkovich said today that the government is ready to use the fund to support both public and privately owned energy companies. "The funds will be provided for a long term," he told Itar-TASS.
Itar-TASS reported earlier that the fund—known variously as the National Wealth Fund and the National Welfare Fund—would aid state-controlled banks VTB Bank and Rosselkhozbank by buying more than $6 billion of their shares.
A Bloomberg News analysis in mid-September found that sanctioned Russian companies had more than $45 billion in bonds and loans maturing over the next 12 months. Sanctions have locked them out of Western capital markets that could refinance that debt.
Putin ally Igor Sechin, who runs Rosneft, has told the Kremlin that the company may need as much as $42 billion in aid, a Russian government official told Bloomberg in August. Rosneft has more than $27 billion in debt maturing over the next year alone. Novatek, co-owned by longtime Putin friend Gennady Timchenko, doesn't have a serious debt problem but is having trouble raising funds for planned investments.
Such companies "are in a very difficult situation," says Tim Ash, chief emerging-markets economist at Standard Bank Group in London. "They've looked at other options, like financing in Asia, but people are reluctant, given the uncertainty about financing Russia at the moment."
Companies that haven't been sanctioned are being squeezed, too, as the ruble's sharp decline hammers their balance sheets. For example, a plan by nuclear exporter Techsnabexport to raise $500 million was scaled back to $150 million by international lenders, a person familiar with the matter told Bloomberg News.
How far is the Kremlin willing to dig into the fund, described by the Finance Ministry as "dedicated to support the pension system of the Russian Federation?" Standard Bank's Ash says he doubts the government would empty the fund. But it is using the fund to buy shares in companies and banks, to boost their liquidity. Vice Premier Dvorkovich said today that the government would "consider temporarily placing the remainder of the National Welfare Fund into securities, including the securities of oil companies."
The demands on the fund come at a time when its key financing source, oil and gas tax revenue, is dwindling because of falling oil prices. Brent crude prices slid today to a two-year low of $90.76 per barrel. At that level, Russia—which gets half its budget revenue from oil and gas taxes—will face a 1.2 percent budget deficit next year.
Corrects sixth paragraph to reflect co-ownership of Novatek.
Before it's here, it's on the Bloomberg Terminal.
LEARN MORE