On the Ropes in Kansas, Roberts Goes Full Anti-Obama
The most popular Republican theme gets boiled down and served up over and over in latest Senate debate.
By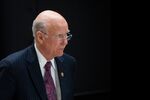 Senator Pat Roberts has won 11 easy races in Kansas since his first House campaign in 1980. He never took less than 60 percent of the vote -- until an August Republican primary that he won with just 48 percent.