On the Ropes in Kansas, Roberts Goes Full Anti-Obama
The most popular Republican theme gets boiled down and served up over and over in latest Senate debate.
By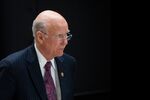 Senator Pat Roberts has won 11 easy races in Kansas since his first House campaign in 1980. He never took less than 60 percent of the vote -- until an August Republican primary that he won with just 48 percent.
 Now Roberts is in a fight for his political life against Independent Greg Orman. A CNN-ORC Poll released Wednesday showed the race essentially tied, with Roberts at 49% to Orman's 48% among likely voters. The lead flips among registered voters, with Orman at 49%  compared with 46% for Roberts.

 A major test came in a debate Wednesday,  in which his primary mission was to define Orman as a liberal Democrat masquerading as an independent, who ultimately would side with President Barack Obama and Senate Majority Leader Harry Reid.  And it became a line Roberts repeated -- no matter the question -- to the three hundred Kansas business executives, state politicians, and other local officials.
On immigration: "We're not going to get anywhere unless we have a Republican majority in the Senate of the United States. We will end the gridlock with a Republican majority."
"A vote for Pat Roberts is a vote for a Republican majority to end the gridlock,'' he said. "A vote for Greg Orman is a vote to continue the Barack Obama, Harry Reid agenda."
On energy: "A vote for Greg Orman would be to hand the future of the energy industry back to Barack Obama and Harry Reid."
"A vote for Greg Orman is to continue the Barack Obama policies. A vote for Pat Roberts is to stop him."
On Social Security: "May I just repeat that the reason the Senate is in gridlock is in one person's hands and it's Harry Reid….Who will (Orman) vote with to lead the Senate? Or won't he vote for anyone. Just put up a little sign and say I'm here. Who will he caucus with?"
On health care: "Unless you stop Harry Reid the same thing is going to go on because the president has indicated that this is a referendum on his policies and his program and his legacy."
"This man is a liberal democrat. I don't know why he can't just come clean and say I'm going to vote for Harry Reid or maybe Chuck Schumer."
On reducing regulation: "That's why many people have lost faith in their government and that's because the government doesn't have any faith in the business community. They don't trust us. That's why you have to change this. But you can't do it when you have president that says this is a referendum on my policies and my programs."
"This man is a liberal democrat he will say otherwise but that's not the case."