How Karl Rove Learned to Love "Amnesty"-Bashing (If It Can Beat Some Democrats)
American Crossroads cites a controversial Heritage Foundation report to spook Iowa voters about immigration.
By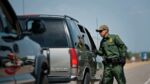 Via Daniel Strauss, a new American Crossroads TV ad in Iowa accuses Democratic Rep. Bruce Braley of giving "lawbreakers access to food stamps and Medicare" by supporting "amnesty." The hook: At least part of this claim is sourced to a 2013 Heritage Foundation report on "the fiscal cost of unlawful immigrants and amnesty." The think tank backed away from that report after then-Washington Post reporter (now-Vox reporter) Dylan Matthews located the thesis of its main author, Jason Richwine, and other reports dug into the items Richwine had written for race-obsessed conservative news sites.
The policy conclusions of that report, which remains online, have not actually been debunked. Richwine's point about entitlements was that allowing the people who crossed illegally into the United States to collect benefits, use food stamps, etc, would be expensive. You could make that point about any Democrat who backed any form of immigration reform that would lead to earned citizenship.
It's just a little jarring to see this message coming from American Crossroads. Karl Rove, who raises funds for the group, has spent more than a decade telling Republicans that they need to be careful about how they discuss immigration if they want to win Hispanic votes. "It is...important that Republicans avoid calling a pathway to citizenship 'amnesty,' Rove wrote a year ago." And here's Crossroads, telling Iowans that any pathway to citizenship is amnesty. It's a long, long way from the Bush presidential campaigns.
"Seems to me that, if there's a story here, it's that Rove and American Crossroads supported the same amnesty that they're hitting Braley for supporting in that ad," Richwine told me in an email. "That makes me wonder why Rove et al. keep telling Republicans it's in their political interest to back amnesty."