Hillary Clinton Open to GOP Obamacare Demand
Republicans and industry have targeted an excise tax since the law was passed.
By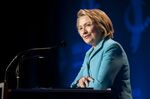 Hillary Clinton signaled she might be open to repealing a key component of Obamacare during a speech Wednesday at a medical device conference in Chicago.
Since the passage of the landmark health care bill, Republicans have wanted to kill a 2.3 percent excise tax on devices such as defibrillators and pacemakers, usually paid by the devices' manufacturer or importer.  The money it raises – an estimated $29 billion over a decade – is central to the financing of Obamacare, and the White House opposes its repeal.
In a paid appearance before the Advanced Medical Technology Association, or AdvaMed, Clinton told a ballroom filled with more than 2,000 industry representatives that they "have an argument to make" when it comes to repealing the tax.  "We have to look and see what are the pluses and minuses," she said. "I don't know what the right answer about the tax is."
"Let's look at what we need to do to make sure that the medical technology industry in this country remains innovative, profitable, effective, strongly partnering to lower costs and improve quality," she said.
AdvaMed includes some of the biggest names in the industry, including Johnson & Johnson, Medtronic, Abbott Laboratories, Boston Engineering and Baxter.
"AdvaMed has consistently and strongly opposes the $30 billion medical device tax because it harms job creation, deters medical innovation and increases the cost of health care," the group says in a position statement on its website. "Congress should repeal it before it can do more damage to American Innovation."
More broadly, Clinton praised Obamacare, saying it's helping families avoid bankruptcy and ensuring that "women are no longer charged more solely because of our gender."  At the same time, she said "there is more work to be done" to improve the law and American health care delivery.
"All of this work will be easier if we get beyond politics," she said. "Too often our health care debates are clouded by ideology, rather than illuminated by data."
Over time, she said, the law will help the U.S. economy.  
Clinton also praised the many "contributions" the industry has made, citing her husband's "quad bypass" heart surgery in 2004 and stents implanted in 2010.
"We're among the many American families who have stories about why what you do is truly life changing and life-saving," she said.
Clinton's Chicago visit also included an appearance with Illinois Governor Pat Quinn, one of many political stops she's expected to make before the Nov. 4 midterms. At a minimum, she's expected to also campaign for Senate candidates in Colorado, Georgia, Iowa, North Carolina and New Hampshire.