Herbalife's New Compliance Chief Comfortable Risking Neck
Duane D. Stanford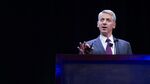 Herbalife Ltd.'s new compliance chief said her experience using the company's shakes, as well as an informal look at its operations, made her willing to stick her neck out for a business that's being probed by regulators.
Pamela Jones Harbour, who spent seven years with the Federal Trade Commission, was introduced as Herbalife's first senior vice president for global member compliance and privacy on Oct. 6. That experience with the same agency that's now investigating allegations Herbalife runs a pyramid scheme boosted the shares 6 percent after her hiring was announced.
Hedge fund manager Bill Ackman has spent two years trying to shut down Herbalife, saying it profits by recruiting distributors rather than selling products to consumers. Harbour said she was convinced otherwise by a visit to an Herbalife nutrition club, tours of an automated distribution center and testing lab as well as meetings with executives.
"There have been times in my career where I've stuck my neck out, but I only will do that if I'm really confident of my own convictions and willing to live with the consequences," she said in an interview. "This is one such instance."
Herbalife, which is based in Los Angeles, declined 1.3 percent to $45.11 at the close in New York. The shares have slid 43 percent this year.
Harbour also is an Herbalife customer. She said she bought her first Formula 1 weight-loss shake powder, Herbalife's best-selling product, from a family member at a reunion in 2004 just to be nice. She liked it, though, especially the Cookies 'n Cream flavor, and would occasionally mix up a shake for dinner after a long night at the FTC. She bought more at future reunions.
Label Check
It wasn't until Harbour saw news coverage of Ackman's accusations and checked the label that she became fully aware of the company behind the shake, she said.
"This is absolutely a legitimate product because I've been using it," she recalled thinking.
That familiarity would later give her a head start when she was asked to consider joining Herbalife.
"I knew the product was a good one, but I wanted to look at some of the other attributes of the company," she said.
Harbour said she's satisfied that Herbalife executives are committed to compliance and that she sees "substantial efforts" and "considerable investments."
"Compliance should be a part of a company's culture, and I got that very strong sense when I was at Herbalife," she said.
FTC Experience
Harbour, who was an FTC commissioner from 2003 to 2010, also served 12 years as a prosecutor in the New York State attorney general's office. Most recently, she helped lead a privacy and data-protection team as a partner at law firm BakerHostetler.
In her newly created role at Herbalife, Harbour will oversee the policing of 4 million distributors in 91 markets and be in charge of protecting company and customer data.
An immediate focus will be "proactive compliance," she said. That may mean keeping a better eye on the health and product claims distributors are making and watching for abnormal ordering patterns.
"It is probably quite a challenge to have everyone rowing in the same direction even though that is the company's mission and aspiration," she said. "One can always take a look at practices, and there can always be enhancements made."
Before it's here, it's on the Bloomberg Terminal.
LEARN MORE