Exclusive: Senate Democrats Flooding South Dakota Airwaves
Will voters in South Dakota and Kansas save Senate Democrats?
By and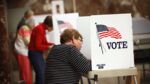 The Democratic Senatorial Campaign Committee will spend $1 million in South Dakota — mostly on television and the rest on field operations — in a last-minute attempt to hold a U.S. Senate seat they now view as winnable, Bloomberg Politics has learned. A DSCC official said advertising will likely be on the air by Monday. As in the Kansas Senate race, Democrats believe they now have a chance to offset inevitable losses elsewhere and maintain control of the Senate.
The official, who spoke on condition of anonymity, said the party has polled the race four times, including last week, and the results were close enough to warrant the spending, the vast majority of which will go for negative TV ads attacking Republican nominee Mike Rounds. The seat currently is held by Democrat Tim Johnson, who is retiring.
Public and private polls show Rounds, a former governor who easily won two terms, mired in the mid-30s with both Democrat Rick Weiland and former Republican Senator Larry Pressler within striking distance. A fourth candidate, independent Gordon Howie, is trailing, but Democrats think his presence in the race is giving them a chance to win by siphoning conservative votes. In a four-way race, less than 35 percent of the vote could be a winning total.
Democrats believe they will keep the seat in their party's hands if either Weiland or Pressler prevails. Pressler is also running as an independent, but Democrats believe he could well caucus with them. He publicly endorsed President Barack Obama in 2008 and 2012.
The National Republican Senatorial Committee professes no concern about the race. "Larry Pressler supports Barack Obama and Rick Weiland doesn't think Barack Obama is liberal enough, putting them far outside the mainstream in South Dakota. Mike Rounds leads by double digits and is well positioned to win," said strategist Brad Dayspring.
The content of the DSCC ad set to run next week isn't known, but the committee's independent expenditures this cycle — as this one will be — have been almost exclusively negative. The DSCC ads will almost certainly include attacks on the state's handling of a visa program while Rounds was governor. That state scandal has already attracted the attention of Mayday PAC, a crowd-funded super PAC that has its own $1 million ad campaign against him.
Complicating matters for Republicans, Rounds has so far refused to run any negative or contrast ads.
The committee's million dollars will buy a lot of television time. It costs about $250,000 in South Dakota to buy 1,000 rating points, or enough to effectively saturate the market.
Democratic strategists never thought they thought they could hold the seat by grinding it out over many months, but they see a real prospect of swooping in with a three-week lightning strike. It's a classic move by the political operation of Senate Majority Leader Harry Reid, who constantly plots to gain every advantage to maintain his majority. And it's particularly sweet for Reid, who came up short in a proxy battle with former Senator Tom Daschle, who encouraged Weiland to run against Reid's favored candidate. 
Democrats are taking particular delight that their majority could end up being saved through the unlikely route of two red states, Kansas and South Dakota, and perhaps Georgia.