Exclusive: Senate Democrats Flooding South Dakota Airwaves
Will voters in South Dakota and Kansas save Senate Democrats?
By and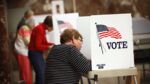 The Democratic Senatorial Campaign Committee will spend $1 million in South Dakota — mostly on television and the rest on field operations — in a last-minute attempt to hold a U.S. Senate seat they now view as winnable, Bloomberg Politics has learned. A DSCC official said advertising will likely be on the air by Monday. As in the Kansas Senate race, Democrats believe they now have a chance to offset inevitable losses elsewhere and maintain control of the Senate.