S&P 500 Erases Year's Best Rally as Oil Sinks, Gold Jumps
Oliver Renick and Joseph Ciolli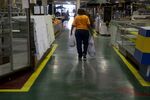 The Standard & Poor's 500 Index wiped out its biggest rally of the year as small-caps tumbled with oil amid concern over Europe's economy. Gold rose on bets the largest economies will keep interest rates low.
The S&P 500 fell 2.1 percent at 4 p.m. in New York, the biggest drop since April, after rallying 1.7 percent yesterday. The Russell 2000 Index of smaller companies tumbled 2.7 percent, the also most since April. West Texas Intermediate crude dropped 1.8 percent, falling into a bear market. The euro slid 0.4 percent against the dollar. The Treasury 10-year yield was little changed at 2.33 percent, while rates in Germany, France and Spain fell to records. Gold jumped 1.6 percent and the VIX soared to the highest since February.
The euro declined and stocks accelerated losses as European Central Bank President Mario Draghi said there are signs the recovery is losing momentum, and the central bank must lift inflation from an "excessively low" level. Federal Reserve policy makers said in minutes of their last meeting that slowing global growth and the stronger greenback posed potential risks to the U.S. outlook. Germany's economy is on the edge of recession, according to four economic institutes.
"We've seen the reintroduction of the risk-on risk-off propensity of the market and that high level of volatility is here to stay for awhile," Drew Wilson, an investment analyst with Fenimore Asset Management in Cobleskill, New York, said by phone.
Considerable Time
A number of Federal Open Market Committee policy makers said U.S. growth "might be slower than they expected if foreign economic growth came in weaker than anticipated," according to minutes from the Sept. 16-17 meeting released yesterday. In a statement following that gathering, policy makers renewed their pledge to keep interest rates near zero for a "considerable time."
Some Fed officials said Europe's cooling economy and low inflation could lead to a further appreciation of the dollar. That, in turn, might curb U.S. exports and limit price gains that have lagged behind the Fed's goal. The release of minutes came a day after the IMF cut economic-growth forecasts and warned of "frothy" equities.
"The fear is that global interest rates are so low that there's risk of deflation, and the economic recovery, which has shown some steady progress, is now deteriorating," Timothy Ghriskey, who helps oversee $1.5 billion as chief investment officer for Bedford Hills, New York-based Solaris Asset Management LLC, said in a phone interview. "The news out of Europe is nothing new, but it's come to front and center now with Draghi's new comments."
Price Stability
Draghi said in a speech in Washington that boosting growth in the euro area will have to come through improvements in productivity. "We are accountable to the European people for delivering price stability, which today means lifting inflation from its excessively low level," he said. "And we will do exactly that."
Germany's economy is on the edge of recession as exports to China and Russia sag and Chancellor Angela Merkel's domestic policies hold back growth, according to four economic institutes. The economy, which shrank 0.2 percent in the second quarter from the previous three months, posted zero growth in the third and will expand 0.1 percent in the fourth, according to the outlook.
After plunging 1.5 percent on Oct. 7, the S&P 500 rallied almost 1.8 percent yesterday on the Fed minutes, the biggest turnaround in almost three years. The measure is down 4.1 percent from its all-time closing high of 2,011.36 reached Sept. 18 as investors assess concerns from valuations to oil prices and growth in Europe, as well as corporate earnings.
Earnings Season
Profit at companies in the S&P 500 rose 4.9 percent in the July-September period, according to the average estimate of analysts in a Bloomberg survey.
Alcoa Inc. dropped 4.2 percent today after reporting third-quarter earnings, the aluminum producer's biggest in three years. Advanced Micro Devices Inc. tumbled 10 percent after naming a new CEO a week before reporting earnings. Gap Inc. plunged 12 percent after saying its chief executive officer will step down.
Apple Inc. climbed 0.2 percent after investor Carl Icahn urged the company to accelerate share repurchases. Icahn also told CNBC he's hedging stocks by shorting the S&P.
'Bye-Bye'
Bill Gross, the former manager of the world's largest bond fund who last month took over a new fund at Janus Capital Group Inc., said investors should say "bye-bye" to the days of double-digit returns.
"The world is slowing down," Gross said in a conversation today with Janus's Chief Executive Officer Dick Weil that was broadcast on the firm's website. "We're doing the best of them all," Gross said of the U.S.,"but frankly it's not like the old normal, it is the new normal where global growth proceeds at a very slow pace."
The Chicago Board Options Exchange Volatility Index surged 24 percent to 18.76, the highest since February. Energy shares had the biggest drop among S&P 500 main industries, plunging 3.7 percent, the most since February. The group has lost 16 percent from a record in June.
West Texas Intermediate fell for a third day, losing 1.8 percent to $85.77 a barrel, the lowest since April 2013, on concern rising global supplies will be more than enough to meet slowing demand. WTI joined Brent in retreating more than 20 percent from this year's June peak, meeting a common definition of a bear market. Brent, which entered a bear market yesterday, declined 1.8 percent to $89.76 a barrel.
Oil Supplies
Shale oil is set to boost U.S. crude production to the most in more than three decades, while last month supplies from OPEC rose and Russian output neared a post-Soviet record. Saudi Arabia, the world's biggest exporter, cut prices for November exports to Asia to the lowest since 2008.
The Stoxx Europe 600 Index declined for a third day, swinging between gains and losses before finishing down 0.4 percent to the lowest level since Aug. 8. Randgold Resources Ltd. advanced 6.1 percent after HSBC Holdings Plc raised its rating on the stock to the equivalent of a buy. Dutch insurer Delta Lloyd NV lost 3.4 percent after abandoning plans to sell its Belgian bank. Portugal's Espirito Santo Financial Group SA filed for bankruptcy after a court rejected a request for creditor protection.
European Yields
The Treasury 10-year yield was at 2.33 percent after dropped earlier to as low as 2.277 percent, the least since June 2013. The earlier rally in U.S. government debt helped push down rates around the world. Yields on securities from Austria to the Netherlands fell to all-time lows, while U.K. 10-year rates touched the least in more a year.
The dollar gained against most of its 16 major peers as Goldman Sachs Group Inc. sees it strengthening more versus the euro, yen and three other peers in revised 12-month forecasts.
The Bloomberg Dollar Spot Index rose 0.3 percent after a three-day drop. The index reached a four-year high last week.
The euro fell 0.4 percent to $1.2688, declining for the first time in four days, after earlier gaining as much as 0.5 percent. The shared currency lost 0.5 percent to 136.93 yen. The dollar fell 0.2 percent to 107.92 yen after touching 107.53, the lowest since Sept. 17.
Silver gained 2.1 percent and gold advanced 1.6 percent to $1,225.30 an ounce. Copper rose 1 percent.
More than $1.2 billion has been added to the value of exchange-traded products backed by bullion this week as prices rebounded amid easing concern that the Fed is close to raising interest rates, reviving demand for the metal as an inflation hedge.
Emerging Markets
The MSCI Emerging Markets Index rose 1 percent. Indian equities halted a three-day loss, climbing 1.5 percent.
Turkey's benchmark gauge rallied 3.1 percent, the most since March and rebounding from a five-month low yesterday. A curfew was in force for a second night across much of southeast Turkey, after deadly clashes sparked by Kurdish protests against the advance of Islamic State militants in neighboring Syria.
The Hang Seng China Enterprises Index of mainland companies listed in Hong Kong increased 0.9 percent, the biggest gain on a closing basis in two weeks, and the Shanghai Composite Index added 0.3 percent.
After the close of Asian markets, the Hong Kong government canceled talks with pro-democracy protesters who have blockaded key city roads for nearly two weeks after leaders of the movement called supporters back into the streets.
Before it's here, it's on the Bloomberg Terminal.
LEARN MORE