Alibaba-Distributed Game Exposes Users' Private Videos Online
Lulu Yilun Chen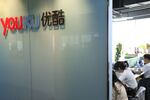 Users of one of only two games on Alibaba Group Holding Ltd.'s instant message service have found movies of themselves uploaded to China's most popular video site after the developer failed to notify users the files would be stored online.
The videos of people playing the charades-like game Feng Kuang Laiwang, many showing users in underwear or naked while playing at home, appeared on Youku Tudou Inc.'s website. App developer Zhejiang Zhile Network Co. apologized on its official Weibo account, Youku deleted the videos and Alibaba referred questions to the developer.
The guessing game, which is distributed though Alibaba's Laiwang app, records players as one person holds up a mobile device displaying words and others use gestures to provide clues to the answer. China's biggest e-commerce company is expanding into new businesses with stakes in car-booking service Lyft Inc. and the purchase of UCWeb Inc. to add Internet browsers and an application store to its services for mobile devices.
"Games are not Alibaba's core business and it might take lots of detours before it's successful with them," said Li Muzhi, a Hong Kong-based analyst at Arete Research Service LLP. "The company should stick to its core business of online shopping."
Youku said in an e-mailed statement it has removed the videos and shut down the account.
Game developer Zhejiang Zhile Network is an affiliate of Alibaba Group, the company said in an e-mail.
The video site yesterday drew criticism among users, some leaving comments on Youku's page requesting the videos be taken down. Alibaba, which competes with Tencent Holdings Ltd., has been counting on Laiwang to become a mobile games distributor, as it tries to win a larger share of China's online gaming market which could reach 225 billion yuan ($37 billion) in 2017.
The game developers failed to notify users that their video will be stored on Youku when they chose to share the footage with friends.
Before it's here, it's on the Bloomberg Terminal.
LEARN MORE