Toyota Supplier Considers Japan Expansion as Yen Weakens
Masatsugu Horie and Ma Jie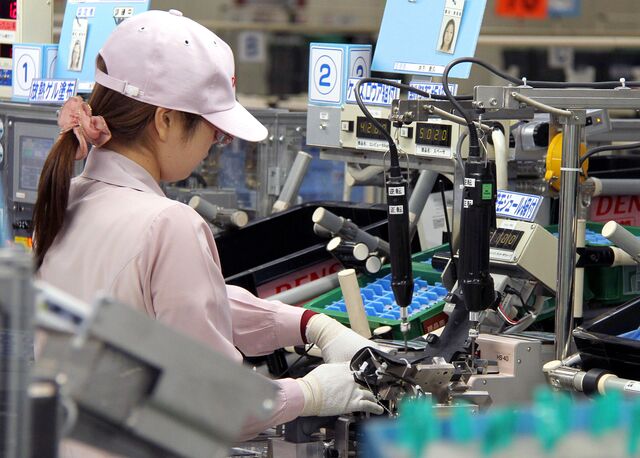 Denso Corp. is giving Japanese Prime Minister Shinzo Abe a reason to believe his weak yen policy will eventually boost investment by manufacturers.
The partsmaker, Toyota Motor Corp.'s biggest supplier, said it's considering expanding production in Japan. "It's possible to maintain a certain level of domestic production, or even increase the output," Nobuaki Katoh, Denso president, said in an Oct. 3 interview.
Denso tends to boost output when and where carmakers do, so a decision to make more parts in Japan would signal that Abe's weak yen policy is rekindling interest in domestic production. That would start to reverse the prevailing trend since at least 2008 for automakers and suppliers, an industry that employs about one in 11 Japanese workers.
Katoh's comments run against the conventional automaker wisdom of building cars where they are sold to better suit local tastes, save shipping costs and reduce exposure to foreign exchange risk. Japan's exports have dwindled as its domestic auto industry deteriorated. A sign that the yen's 28 percent decline over the past two years is moderating those trends may boost support for Abe.
Denso fell 2.1 percent in Tokyo trading, while the benchmark Nikkei 225 Stock Average index dropped 1.2 percent.
Automakers will add 22 million units of auto production worldwide by 2021, researcher IHS Automotive estimates. Japanese annual output is poised to shrink by more than 1.6 million vehicles in the coming decade, according to IHS.
Capex Slump
Capital spending growth at Japanese companies will decline to 1.3 percent in the year ending March, with automobile and telecommunications companies driving the slowdown, Moody's Corp. estimated last month. That compares with 12.3 percent spending growth in fiscal 2012, according to Moody's.
Vehicle production in Japan shrank by almost a third to 7.9 million units in 2009 from the 2007 record of 11.6 million, after the worldwide auto industry slumped amid the global recession. Output stayed weak in the following years as the yen remained near a record high and executives including Nissan Motor Co. Chief Executive Officer Carlos Ghosn warned that the industry would "hollow out" if the currency didn't weaken.
The dollar traded at about 108.3 yen today, 43 percent higher than its postwar record low of 75.82 yen in October, 2011.
Profit Boost
Every one yen drop versus the dollar increases Denso's operating income by about 2.5 billion yen, the Kariya, Japan-based company estimates.
While a weak yen helps manufacturers, Japanese lawmakers are flagging the need for discussion of an exit strategy to a monetary policy program that's driving the yen lower and hurting parts of the economy.
Exchange-rate depreciation has raised the cost of imports including energy. Smaller businesses have become increasingly vocal in opposing the currency's depreciation, even as Bank of Japan governor Haruhiko Kuroda says that the negative effects are outweighed by the positive.
Denso is forecasting an operating income of 350 billion for the financial year ending March, based on an assumption the dollar will average 100 yen. The Japanese currency has averaged 103.33 against the dollar this fiscal year.
Toyota, Nissan and Honda Motor Co. have been shifting production to markets including Thailand and Mexico to produce cars closer to where they are sold and minimize the effects of currency fluctuations.
Hollowing Out
Nissan's domestic production has accounted for 17 percent of its global output so far this fiscal year, compared with 36 percent for 2008. The ratio at Honda dropped from 34 percent six years ago to 22 percent this year. Toyota, whose domestic production ratio is also declining, has said it is committed to making 3 million cars a year in Japan.
Denso, 22 percent owned by Toyota, has been working to improve productivity at domestic plants in the wake of the global recession, Japan earthquake and the yen's surge.
The parts maker still focuses on "producing where the demand is," said Katoh. At the same time, the company intends to concentrate development and production of core components, such as those with high added-value, in Japan for export, he said.
Last month, ZF Friedrichshafen AG agreed to buy TRW Automotive Holdings Corp. for $11.7 billion, surging past Denso and Continental AG to become the world's second-largest maker of auto parts, trailing only Robert Bosch GmbH.
Katoh said Denso isn't seeking similar deals. The company will look for companies with distinctive technologies, such as image processing, which could be used to improve vehicle safety, he said. Possible acquisitions would be "less than 5 billion yen," he said.
Before it's here, it's on the Bloomberg Terminal.
LEARN MORE