Spain Nurse's Assistant With Ebola Is Lesson for Workers
Rodrigo Orihuela, Macarena Munoz and Angeline Benoit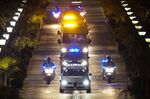 Spanish officials pledged to review infection control procedures after a nurse's assistant became ill with Ebola, highlighting the dangers to health workers of dealing with the virus in developed countries.
The 44-year-old worker from near Madrid was in stable condition, authorities said yesterday. Her husband is in isolation and is being tested for Ebola, and about 52 people are being tracked because they interacted with her or cared for Ebola patients, they said. A nurse who worked with the assistant at Carlos III hospital tested negative for the virus.
Two Spanish missionaries who became infected while working with Ebola patients in West Africa were brought to the hospital in August and September. Both died. The nursing assistant cared for the second man, Manuel Garcia. The episode shows that health workers can't be too cautious, said Peter Piot, a co-discoverer of the Ebola virus in 1976 who is now the director of the London School of Hygiene and Tropical Medicine.
"It's better to be accused of overreacting," he said at a briefing yesterday in Geneva. "Dealing with patients with Ebola illness is a very risky business, and the slightest mistake can be fatal."
The Ebola outbreak in Sierra Leone, Guinea and Liberia has killed more than 3,400 people, among them doctors and nurses caring for the sick. About 382 health-care workers have been infected in West Africa and 216 of them have died, the World Health Organization said Oct. 3.
Direct Contact
The virus is spread by direct contact with a sick person's blood or other bodily fluids, suggesting that infection control procedures weren't strictly followed at Carlos III. The Spanish government had designated the hospital as the one to which Ebola patients should be brought. Any future evacuees will be sent to a military hospital, Europa Press reported.
Another nursing aide who was part of the team working with Spaniards repatriated has been hospitalized as a precautionary measure because of a slight fever, Europa Press reported.
"The investigation will have to look into how prepared the hospital was since dealing with Ebola patients requires the best conditions of equipment, planning and training," said Professor Christophe Rapp, head of infectious and tropical diseases at the Begin military hospital in Saint-Mande, on the outskirts of France's capital, which treated a volunteer nurse and discharged her last week.
Human Fluids
The hospital will monitor employees who cared for her until Oct. 25, Rapp said. Those in contact with the Ebola patient wore special protections, dressing and undressing in pairs in front of mirrors to prevent mistakes as a small quantity of virus is enough to trigger a secondary infection, he said. Other techniques to avoid contagion include human waste solidification as liquids are more dangerous to handle.
"Nurse assistants are among the most exposed people in an Ebola case because they're the ones in contact with human fluids when they change sheets or clean patients," Rapp said. "Not any hospital can deal with Ebola patients, it's a heavy, costly and complicated process, and if there had been no secondary infection until now, it's also because there are so few cases."
It's still unclear how the nursing assistant became infected in Madrid, said Rafael Perez-Santamarina, head of La Paz hospital, a university hospital with which Carlos III hospital is affiliated.
'Unpleasant Surprise'
"We are trying to check to see if there has been any kind of failure for whatever reason -- we are in full investigation mode," he said at a news conference. "The truth is that this issue has been a surprise for us, an unpleasant surprise."
The woman is being treated with blood serum from a recovered Ebola victim, officials said yesterday. There's no known cure for Ebola, and experimental treatments are being tried in patients along with the standard care of hydration. The disease can cause fever, diarrhea, vomiting and, in some cases, internal and external bleeding.
Spanish authorities didn't identify the couple, though their names were published on social media and news websites. Reporters gathered outside their home in Alcorcon on the outskirts of the Spanish capital, and two police cars were parked in front of the seven-story building.
"It's scary -- I would not have imagined having this so close to my house," said Monica de Marcos, 44, while walking her dog near the home. "We have to pray and hope that nothing happens to her."
Dog Link
Animal-rights activists also gathered because the husband posted on Facebook that Madrid health authorities had ordered his dog to be put down while he and his wife were in the hospital to reduce the threat of Ebola transmission.
The Ebola virus jumps to humans from infected animals including chimpanzees, gorillas and bats. Human infections haven't been linked to dogs, according to International SOS, which provides emergency services to companies.
Aid workers who have fallen ill in Africa have been evacuated to Spain, France, Germany, the U.S. and Norway for treatment, raising concern that secondary infections will occur in those countries.
Garcia, a missionary doctor from the Hospital Order of Saint John of God, died Sept. 25 at Carlos III hospital after being repatriated from Sierra Leone. Miguel Pajares, a priest who contracted the illness in Liberia, died at the hospital in August.
Before it's here, it's on the Bloomberg Terminal.
LEARN MORE