Putin Has Siberian Birthday as Russians Show Their Love
Anatoly Medetsky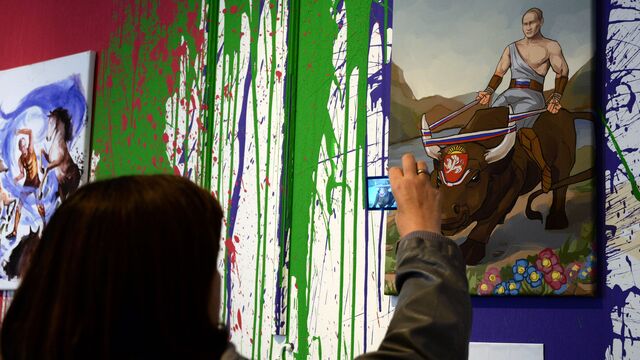 President Vladimir Putin's 62nd birthday today prompted public displays of reverence for the Russian leader.
While Putin took a rare day off and disappeared from the public eye to celebrate in the Siberian wilderness, shoppers thronged to buy iPhone cases and sweatshirts bearing his portrait, often with military headgear, at the GUM department store on Moscow's Red Square. Artists Anna Trifonova and Ivan Yershov, who opened a pop-up outlet at the store for Oct. 6-8, drew inspiration from Andy Warhol and "iconic" images of Che Guevara and James Bond, according to a GUM statement.
Putin's popularity is near record highs, having soared this year as the conflict in neighboring Ukraine intensified, even as the economy teeters on the brink of recession and the ruble hovers near record lows. More than 100,000 young people in t-shirts the colors of the Russian flag formed a 2,000-meter banner in Grozny, the capital of Chechnya, according to Ramzan Kadyrov, the regional president.
"A new world record has been set today in Grozny in creating a living human national flag and the number of the people involved," Kadyrov said on Instagram. "They expressed support for President Vladimir Putin and congratulated him on his birthday."
'12 Labors'
Classical images inspired "The 12 Labors of Vladimir Putin," a one-day exhibition showing him battling Russia's foes in 12 paintings drawn from the Greek myth of Hercules.
One depicted Putin fighting a multi-headed hydra representing countries that have imposed sanctions on Russia over the Ukraine crisis, and another showed him barring U.S. jets from bombing Syria. The exhibition by anonymous artists at a Moscow gallery was organized by a Facebook group of Putin supporters.
A youth group called Network painted huge pictures on the sides of seven apartment buildings located across Russia, from Kaliningrad on the Baltic Sea to Vladivostok on the Pacific coast. The paintings included a map of Crimea, the peninsula that Russia annexed from Ukraine earlier this year, and a nuclear-powered icebreaker.
Over-sized letters, one on each image, together formed the word "Spasibo," or "Thank you" in Russian, in gratitude to Putin as architect of the country's recent "victories," according to the group's website.
Some heads of state telephoned Putin to wish him a happy birthday, the Kremlin said in an e-mailed statement. They included Japan's Prime Minister Shinzo Abe and presidents from former Soviet republics, including Belarus's Alexander Lukashenko and Kazakhstan's Nursultan Nazarbayev. Former Italian Prime Minister Silvio Berlusconi called Putin too.
Putin's approval rating was at 84 percent in an Aug. 22-25 survey by the polling company Levada Center. That compares with 65 percent in January and a peak of 88 percent in 2008, Levada said Aug. 27. The poll of 1,600 people in 46 regions had a margin of error of no more than 3.4 percentage points.
Before it's here, it's on the Bloomberg Terminal.
LEARN MORE