Meet the Libertarian Who May Swing the Senate
North Carolina Republicans fear that pizza deliveryman Sean Haugh will ruin their Senate campaign. He says they've already lost it.
By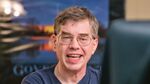 "I have a shot at winning this race," says Sean Haugh. "Thom Tillis does not."
North Carolina's Libertarian candidate for U.S. Senate is talking to me between bites of an apple pastry in a coffee shop near the NC State campus, in Raleigh. It's October 1, and I've just driven from an event where the aforementioned loser – state House Speaker Thom Tillis, the Republican candidate for Senate – campaigned with Kentucky Senator Rand Paul. Tillis has been been hosting any Republican star who would have him, from Jeb Bush to Lindsey Graham to a senator who could not be further, ideologically, from those guys.
"I long ago made my peace with the fact that Rand is running for president," says Haugh. "I find this whole parade amusing, because Tillis is unelectable."
Republicans argue that Tillis would have a wider, clearer path to victory if Haugh would just drop out. A dour candidate who has suffered from voters' negative views of the state legislature, Tillis has trailed Senator Kay Hagan in every public poll for the past month. Haugh, a pizza delivery driver who's spending only $8000-odd on the campaign, consistently polls around 5 percent. He has offered his platform in short video segments, filmed in campaign manager Rachel Mills's basement.
Republicans don't know how to capture the protest votes going to Haugh. His qualifications are well known; he's been the subject of features in the Washington Post and the New York Times, and on the day I visited he was on the cover of Raleigh's alt-weekly, holding a pizza box. But North Carolina, which for years was one of the toughest ballot access slogs for third-party candidates, has been habitable to Libertarians. In 2008, political science professor Michael Munger won 2.9 percent of the vote in North Carolina's gubernatorial race, assuring the LP of ballot status in the next election. In 2012, Barbara Howe cracked 2.1 percent in a much less competitive gubernatorial race. Thus, Haugh could make the ballot.
"We can get 2 percent of the vote just by showing up," says Haugh. "Everybody knows what a Libertarian is now. Social media has really revolutionized the way you can reach out to people, and they can find out if they agree with you or not."
This was what Ron Paul found in his 2008 and 2012 campaigns for the Republican nomination. Indeed, there's a sort of pincer attack coming from libertarians toward the North Carolina GOP. While covering Rand Paul's short rally, I ran into Rachel Mills – who, I should add, was Ron Paul's spokeswoman for his final terms in Washington. She wasn't disrupting the event. She was monitoring that Rand got a better reception than the other heavy hitters who'd come in for Tillis, so that Tillis realized he needed to respect libertarians and ally with them.
"If you look at social change, any kind of social movement, there's a combination of outside pressure and inside pressure," says Haugh. "In 2012, I joined the GOP briefly, simply so I could be eligible to vote for the delegates who were supporting Ron Paul." He shudders. "That was a filthy experience. I changed my registration back as soon as I could. And even if Ron had been the GOP nominee I'd have voted for [Libertarian candidate] Gary Johnson. Rand's trying to be a good Republican, and I'm not that kind of person."
Haugh does agree with Rand Paul on substance. The intervention against the Islamic State, he said, was "insane." Like Paul, Haugh insists that Senator John McCain had been suckered into a photo op with future IS terrorists. (Not quite true.) "We know the results already of these bombing campaigns," Haugh says. "We only create more enemies that are more organized, armed with our weapons and our training."
Tillis has attempted to avoid taking a position on IS. When Lindsey Graham stumped for him, and argued for "boots on the ground," Tillis insisted that as a civilian he couldn't possibly make policy. His preferred approach to the IS panic has appeared in TV ads, scorching Hagan for not attending all of her Senate Armed Services meetings.
"That's such a phony attack," says Haugh. "He has absolutely no substance to him at all. Coming down here is going to help Rand's campaign, but there is no amount of dark money in this world that can help Tillis."
And of this – Tillis's weakness, Haugh's stubbornness – actually benefits Paul. In 2013, Paul was persuaded to enter the North Carolina primary and endorse Greg Brannon, a doctor who idolized the Paul family and had never run for office before. Tea Party groups backed him; Paul raised funds for him. The day before the primary, Paul zoomed into Charlotte for a Brannon rally. When Brannon failed to force a runoff with Tillis (he needed to hold the frontrunner below 40 percent in a four-way race), the media moved on and never again paid attention to a candidate who called virtually every government program "socialism" and argued that the Second Amendment allowed civilians to own nukes.
Had Brannon forced a runoff, Brannon might have become notorious -- certainly, the GOP establishment would have blamed Paul for forcing Tillis to spend weeks and millions of dollars fighting in a runoff. But it didn't happen. Rand had since told Republican voters to back Tillis. Haugh, who had the most to lose from that move, did not really mind. If Tillis blew the election and Hagan won with less than 50 percent of the vote, Republicans would probably blame Haugh, but be unable to blame Rand Paul.
Haugh knows it. He's running anyway. "Where would we be without Ross Perot?" he asks. "He ran, he scared the parties, and he made the deficit into an issue that nobody could ignore. That's a tremendous legacy."
With that, Haugh polishes off his snack and walks back to the 2005 Kia  he uses to deliver pizzas. "I consider free parking to be my right as a citizen," he says, in what may or may not be a joke. He finds his car, parked gratis but not yet towed, and poses for a photo with the alt-weekly. As we exchange Twitter handles, an attendant arrives at the other end of the parking lot with a tire lock. Haugh swiftly returns to the campaign trail.