Brown Cries Foul Over Shaheen Ad On Abortion
He says the senator is distorting one of his abortion bills. The legislation tells a different story.
By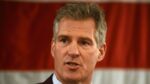 Republican U.S. Senate hopeful Scott Brown launched into Democratic Jeanne Shaheen on Tuesday, saying "she lied" in a new TV spot from the incumbent Democratic senator which Brown calls "despicable." But it looks like Brown is the one who's distorting the record.
Shaheen's ad states that Brown sponsored a bill to force women to look at color photographs of developing fetuses before having an abortion. "Scott Brown wants the government to tell women how to make this decision," a female narrator says in the spot.
In response, Brown, a former Massachusetts lawmaker, held an impromptu news conference to hammer the ad.
"Her lies and scare tactics are, quite frankly, disappointing," Brown told reporters in Derry, New Hampshire.
But a reading of the bill-in-question shows that's what the measure would do, among other things.
The referring physician, the physician performing the abortion, or either physician's agent must provide in a manner enabling the pregnant woman to receive at least twenty four hours before the time an abortion is scheduled to be performed a printed pamphlet, the internet address to a state-sponsored website, or toll free number for an audio recording, all of which are created and maintained by the commissioner of public health, and which communicate the following general information:

… a description of the probable anatomical and physiological characteristics of the unborn child at two week gestational increments from fertilization to full term, including color photographs or if a representative photograph is not available, realistic drawings of the developing unborn child at two week increments, and including written information about brain and heart function and the presence of external members and internal organs at each stage of development...
Brown is focusing on the ad's accusation that women were "forced" to look at fetus pictures, arguing that the ad is a lie because the bill would only require doctors to pass along the information. In other words, Brown is essentially arguing that the women could keep their eyes closed.
"No where in the bill does it say women were forced to do anything. It required doctors to provide alternatives to abortion, to provide additional information," Brown said. "A woman can take it and throw it away, or they can read it, or not."
Campaigning in Derry herself, Shaheen did not back off from the assertions made in the ad. 
"He said this is not a decision that women are capable of making with our families and our health care providers. He said this is a decision that the government should be making, that I, Scott Brown, am going to make," Shaheen told supporters. "He may have turned his back on the constituents that he had in Massachusetts when he moved to New Hampshire, but he can't turn his back on his record."
Asked about the 24-hour period requiring doctors to provide information before an abortion, Brown shrugged it off. "If that was an issue concerning other members, we could have amended that part of it," Brown said, adding that his intent was to increase adoptions.