Why Politicians Should Stop Pushing for an Ebola Travel Ban
The best way to protect Americans from Ebola is to end the outbreak in Africa.
By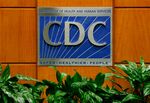 The Obama administration has for now ruled out travel bans between the U.S. and Ebola-stricken countries in West Africa, despite calls from lawmakers and concerned citizens. During a press conference Monday President Obama announced that there will be additional screenings of people, both in West Africa and the U.S. "We're also going to be working on protocols to do additional passenger screenings, both at the source and here in the United States," he said.