What's Working for Outperforming U.S. Stocks
by
Today we focus on boardroom strategies generating the biggest stock market returns for shareholders, courtesy of the team at Ned Davis Research Group. Whereas strategists tend to focus on industries and sectors, this analysis groups together companies according to factors like dividend policy and capital investment.
Three specific categories produced the highest stock market appreciation in September, according to NDR:
U.S.-focused companies immune to dollar strength (unlike exporters)

Companies reinvesting greater capital in their own businesses

Companies generating positive cash flow.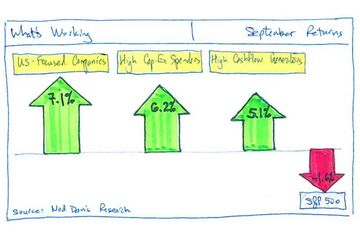 All three groups significantly outperformed the S&P 500 Index during September. Critically, the NDR team adds:
"We believe this can persist. During secular bull markets, correlations typically fall as stock movements tend to be driven by company-specific fundamentals, favoring companies with higher stock-specific risk."
So today we share the results of our NDR-inspired stock screen which captures all three of these market-beating factors. A total of 429 components of the S&P 500 Index reported cash flow growth in their most recent earnings reports, 141 are increasing capital expenditures, and 91 sell exclusively in the U.S.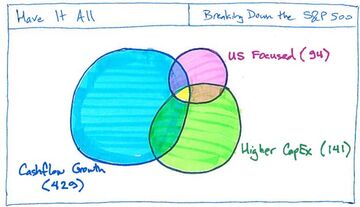 The small yellow section on our Venn diagram indicates the intersection of all three factors. It includes just 12 companies. As a group they are up an impressive 18.3 percent this year, nearly three times the return of the S&P 500 Index.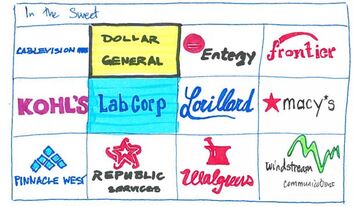 Cablevision Systems Corporation (CVC); Dollar General Corp. (DG); Entergy Corporation (ETR); Frontier Communications Corporation (FTR); Kohl's Corporation (KSS); Laboratory Corporation of America Holdings (LH); Lorillard, Inc. (LO); Macy's, Inc. (M); Pinnacle West Capital Corporation (PNW); Republic Services, Inc. (RSG); Walgreen Company (WAG); Windstream Holdings Inc. (WIN)
Before it's here, it's on the Bloomberg Terminal.
LEARN MORE