The 8 Most Important Cases in the New Supreme Court Term
The term's biggest issues so far doesn't include a gay marriage case that they're expected to take soon.
By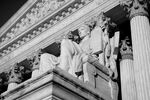 The Supreme Court term that starts Monday could be one of the most significant in modern history, with gay marriage in particular offering the possibility of a landmark ruling. The justices have considered five cases in which marriage bans were ruled unconstitutional during their private conference on September 29, but haven't yet announced whether they will accept one of the cases.