Samsung Profit Plunge Seen Prompting New Businesses
Jungah Lee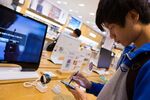 Samsung Electronics Co. may accelerate a push into wearable devices and home appliances that communicate wirelessly after its quarterly profit plunged 60 percent because of stagnating smartphone sales.
Operating profit fell to 4.1 trillion won ($3.8 billion) in the three months ended September from a record 10.2 trillion won a year earlier, the Suwon, South Korea-based company said in a regulatory filing. Sales fell about 20 percent as the biggest smartphone maker ceded share in China and India to local rivals.
Samsung is rolling out new products to stave off gains by Apple Inc. with larger-screen devices, an area the Galaxy maker has dominated, and by Xiaomi Corp. and Lenovo Group Ltd. with feature-packed phones selling for lower prices. Samsung will spend 15.6 trillion won building a semiconductor plant in South Korea to meet demand for the brains that run smartwatches, fitness monitors, automobiles and refrigerators.
"Samsung should really push beyond smartphones because we can no longer expect significant growth from the business," said Yoo Eui-Hyung, an analyst with Dongbu Securities Co. in Seoul. "It's time for Samsung to act more aggressively in seeking future growth areas, including more lucrative semiconductors and more web-controlled applications such as smart cars and smart homes."
New Galaxy
Construction of the new plant in Gyeonggi province, south of Seoul, will begin in the first half of next year, with operations due to commence in 2017. In August, Samsung said it was acquiring SmartThings, a startup that make mobile applications to control devices in houses.
Shares of Samsung rose 1 percent to close at 1,162,000 won in Seoul trading today, paring this year's decline to 15 percent. Analysts expect fourth-quarter earnings to improve as Samsung benefits from sales of its new Galaxy Note 4 and Galaxy Edge devices during the Christmas season.
Samsung is preparing smartphones that feature new materials and innovative designs, Samsung said in an e-mailed statement. The company also is developing more mid- to low-end devices to help it compete.
"The market thinks this is the worst profit they can expect from its mobile business, it won't go any lower from here as more product lineups are expected throughout this year into next year," said Claire Kim, a Seoul-based analyst at Daishin Securities Co.
The drop in quarterly profit was the company's biggest since 2009.
IPhone Debuts
Sales were about 47 trillion won in the quarter, the company said today. That compares with the 50.3 trillion-won average of 40 analyst estimates compiled by Bloomberg.
The company didn't provide net income or details of division earnings, with audited results due to be reported later this month.
While total smartphone shipments rose in the quarter, the mobile unit's profit margin shrank on higher marketing spending and lower average selling prices for devices, Samsung said.
Third-quarter operating profit at the mobile unit, the company's biggest business, was probably 2.5 trillion won on sales of 26 trillion won, according to the median estimates of five analysts surveyed by Bloomberg News.
The unit's profit fell from a record 6.7 trillion won a year earlier. Samsung's share of the global smartphone market reached its lowest in more than two years during the second quarter, researcher Canalys said in an Aug. 4 report.
Samsung released its Note 4 late last month to help defend its share of large-screen phone sales from the new iPhone 6 and iPhone 6 Plus that debuted Sept. 19.
Flexible Screen
"It's getting tougher to make money from high-end smartphones," said Lee Jae Yun, an analyst with Tongyang Securities Inc. in Seoul. "Samsung's mobile division can possibly take another leap sometime next year if it can really introduce the next-generation Galaxy S device with upgraded hardware, such as a flexible screen."
Samsung probably shipped 12 million units of its marquee S5 smartphones in the third quarter, compared with about 18 million units sold in the second quarter, according to I'M Investment & Securities Co.
The display unit, which dominates the market for screens using organic light-emitting diodes, probably posted an operating loss of 120 billion won, compared with profit of 980 billion won a year earlier, amid slowing sales of high-end models, according to the Bloomberg News survey.
The company's OLED displays, which offer sharper images at lower power than most liquid-crystal displays, are mainly used for Samsung's own top-end smartphones.
Chip Plant
Profit at the display business will improve from next year with Chinese smartphone makers set to adopt OLED screens, Daishin's Kim said. Samsung also may start applying its new technologies, such as higher-margin flexible displays, to boost the unit's earnings, she said.
Earnings at Samsung's semiconductor unit, which supplies memory and processor chips to Apple and other makers, was 2.1 trillion won in the third quarter on sales of 10.4 trillion won, according to the Bloomberg News analyst survey.
"It looks like profits hit bottom last quarter," said Heo Pil Seok, the chief executive officer at Midas International Asset Management Ltd., which oversees about $10 billion in Seoul. "Moving forward, there are uncertainties with the mobile business while the semiconductor business is expected to continue to do well in the fourth quarter."
Lower prices for televisions and an earlier-than-expected end to the summer sales season for air conditioners and other appliances curbed earnings at the consumer electronics division, Samsung said.
Operating profit at the unit probably dropped to 140 billion won from 350 billion won a year earlier, according to the analyst survey.
Before it's here, it's on the Bloomberg Terminal.
LEARN MORE