Naomi Wolf and the Search for American Fascism
An Al Gore consultant-turned-Ron Paul supporter accidentally becomes an ISIS truther.
By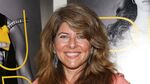 Every generation gets the Naomi Wolf it deserves. I'm 33, so I first became aware of the feminist author in 1999, when reading media clips about her work for Al Gore and (less famously) Bill Clinton. "She coached each to emphasize his manly strengths, relying on hoary, tired gender stereotypes," reported Jodi Kantor at the time. Wolf didn't play a huge role in post-Gore Democratic politics, but to my surprise, I met her in 2008 when she spoke at a shambolic, mid-July, brutally hot Ron Paul march in Washington. Wolf had published a treatise called The End of America, which argued that the United States was becoming a fascist state.