U.S. Knows of a Dozen Americans Fighting in Syria: FBI
David Lerman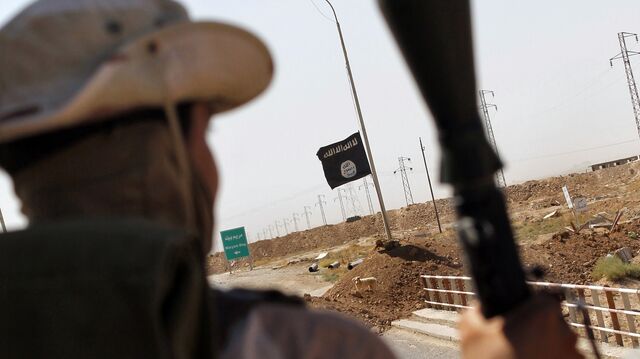 The U.S. knows the identities of about a dozen Americans fighting in Syria for Islamic extremists, FBI Director James Comey said.
The head of the Federal Bureau of Investigation said he knows who each of the "dozen or so" U.S. combatants are and will track them if they try to return to American soil.
"Ultimately, an American citizen, unless their passport's revoked, is entitled to come back," Comey said in a taped interview for CBS's "60 Minutes" program airing tonight, according to a transcript.
"So, someone who's fought with ISIL, with American passport, wants to come back, we will track them very carefully," he said, using an acronym for Islamic State, which declared a caliphate and controls territory in eastern Syria and northern Iraq.
Defense Secretary Chuck Hagel offered a higher estimate of U.S. fighters for Islamic State at a forum last month at the Naval War College in Newport, Rhode Island.
"We are aware of over 100 U.S. citizens who have U.S. passports who are fighting in the Middle East with ISIL forces," Hagel said on Sept. 3. "There may be more; we don't know."
The Pentagon revised that estimate the next day. Army Colonel Steve Warren, a Pentagon spokesman, told reporters there are about 100 U.S. passport holders operating inside Syria, though their affiliations aren't known. He said there are maybe about a dozen fighting with Islamic State.
'Imminent Attack'
Comey, who took office about a year ago, also said an al-Qaeda cell in Syria known as the Khorasan Group may still be working on plans to attack either the U.S. or its allies.
The Defense Department last month said it struck Khorasan militants in Syria, west of Aleppo, with a barrage of Tomahawk missiles based on intelligence that the group was in the final stages of planning an "imminent attack" against the U.S. or Europe.
Since then, U.S. officials have provided no details about the nature of the planned attack or the credibility of the intelligence they had on it.
"Khorasan was working and, you know, may still be working on an effort to attack the United States or our allies, and looking to do it very, very soon," Comey said in the interview.
"We know they're serious people bent on destruction," he said. "And so we have to act as if it's coming tomorrow."
Bonnie and Clyde
Even with the threats posed by Khorasan, Islamic State and other radical groups, the U.S. is better prepared than it was when al-Qaeda attacked the World Trade Center and the Pentagon in 2001, Comey said.
"We are better organized as an intelligence community," he said. "We're better organized and equipped at the border. We have relationships with our foreign partners, all of which make us better able to see dots and connect dots. The transformation since before 9/11 is striking."
In another challenge facing the FBI, Comey called cybercrime "an epidemic" that is costing the U.S. economy billions of dollars each year and requires greater resources to combat.
"Bonnie and Clyde could not do a thousand robberies in the same day, in all 50 states, from their pajamas, halfway around the world," Comey said, comparing the infamous outlaws of the Great Depression to modern-day cyber hackers.
China tops the list of countries launching cyberattacks against the U.S., Comey said, pointing to charges the FBI brought against five members of China's People's Liberation Army earlier this year.
"They are extremely aggressive and widespread in their efforts to break into American systems to steal information that would benefit their industry," he said.
While the U.S. has made "great progress" in combating threats to cyber security, Comey said, "we're about high school soccer now. We're spread out. We pass well. But the bad guys are moving at World Cup speed. So we have to get better."
Before it's here, it's on the Bloomberg Terminal.
LEARN MORE