BHP Squeezes Lemon in Bid to Beat Rio as Low-Cost Iron Ore Miner
Jesse Riseborough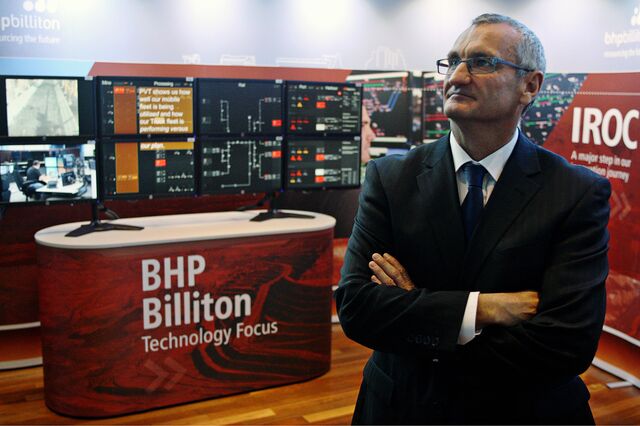 BHP Billiton Ltd., the world's biggest mining company, unveiled an ambitious plan to usurp Rio Tinto Group's position as the most profitable iron-ore supplier by expanding its output by 30 percent.
"Our aspiration is to be the all-in lowest-cost producer, but at the moment it is Rio," Jimmy Wilson, head of Melbourne-based BHP's iron ore unit, told reporters from Perth Oct. 3. "This is the name of the game in the industry. We are driving towards that irrespective of Rio."
BHP, Rio and Brazil's Vale SA, which together control about 60 percent of global exports, are pumping billions of dollars into expanding output, squeezing higher-cost producers in an already over-supplied market. The price of steel-making ingredient slumped to a five-year low last month, prompting Goldman Sachs Group Inc. to declare the "end of the Iron Age" after a Chinese-led demand spike over the past decade brought record profits for producers.
BHP is spending $2 billion to increase annual production capacity to 290 million metric tons, Wilson said. That can be achieved for about $30 a ton of additional output, which compares to its earlier estimate of $50 a ton, he said.
The world's third-biggest iron ore exporter wants to cut production costs to less than $20 a ton, from about $25 a ton at present, excluding freight and royalty costs. That compares with London-based Rio Tinto's average cost of $20.40 a ton in the first half. A spokesman for Rio, the second-largest exporter, declined to comment.
Driving Value
The additional output will be achieved through driving greater efficiency in its network of mines, ports and rail lines rather than investing in new operations, Wilson said. Costs will be lowered by squeezing suppliers as well as through the loss of "hundreds" jobs, he said.
"We have discerned that this is the most value-accretive thing we can do in our business," Wilson said. "This is not targeting competitors in any way. This is just driving more value out of our existing business. I can do nothing other than this. This is what the shareholders expect us to do."
Iron ore is the mining industry's biggest cash cow. Over the past six years, BHP has made an average profit margin of 70 percent and Rio 73 percent, according to Citigroup Inc.
Still, a widening global glut that's helped send prices down 41 percent this year is causing some to question the pursuit of a volume-led strategy. Rio Tinto, building capacity to 360 million tons a year, and Vale are also investing in expanding mines in Australia and Brazil respectively.
Surplus Ore
The ballooning surplus will more than triple to 163 million tons next year from 52 million this year, according to Goldman. It projects an expansion to 245 million tons in 2016, 295 million tons in 2017 and 334 million tons in 2018.
This influx of cheap Australian ore is resulting in higher-cost producers, particularly in China, closing mines or curbing output. BHP sees Chinese output of 400 million tons a year falling by half in an industry shake-out that's already seen 100 million tons come out of the market.
Iron ore with 62 percent content at the Chinese port of Qingdao was unchanged at $79.60 a dry ton on Oct. 3, according to Metal Bulletin. Prices fell for a third straight quarter in the three months ended Sept. 30, the longest such streak on record.
High-cost producers are facing a "pain point" at prices of about $80 a metric ton, Tom Albanese, former chief executive officer of Rio, said in an interview last week. While low-cost producers would still be able to make good money, there will be some higher-cost mines that will close as prices remain weak for a sustained period, he said.
More Juice
Miners in West Africa are already feeling the squeeze. African Minerals Ltd. and London Mining Plc, the two biggest exporters in Sierra Leone, are both seeking financing to help offset their high-cost production.
Still, BHP will consider increasing its production capacity beyond 290 million tons a year, Wilson said.
"If we can squeeze the lemon and we find that there is still more juice, we will squeeze the lemon and we will continue to squeeze that lemon," he said.
Before it's here, it's on the Bloomberg Terminal.
LEARN MORE