Junk Status Looms as Rousseff Rouses Bond Angst: Brazil Credit
Filipe Pacheco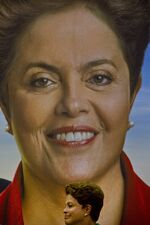 The prospect President Dilma Rousseff will be re-elected is putting Brazil on the verge of junk status in the bond market.
The extra yield that investors demand to own Brazil's debt securities instead of Treasuries is within 0.3 percentage point of the average for speculative-grade bonds, the closest the nation has been to junk since it ascended to investment grade in 2008, data compiled by JPMorgan Chase & Co. show.
Buffeted by its first credit-rating cut in a decade, Brazil is struggling to convince investors it can stave off more downgrades as polls show increasing support for Rousseff, whose intervention in the economy upended growth and fanned inflation. Moody's Investors Service raised the possibility Brazil may eventually be lowered to junk, or two levels below its current rating, when it cut the nation's outlook to negative last month.
"We know how she likes to manage the economy, and I don't expect a lot of significant changes in terms of economic policy in a second term," Marco Santamaria, a New York-based money manager at AllianceBernstein LP, which oversees $25 billion of emerging-market debt, said by telephone. "We might have some adjustments here and there, but I don't think they will be sufficient to prevent the downgrade."
The presidential palace's press office declined to comment on the ratings outlook or the nation's bonds in an e-mailed statement.
Unchecked Trends
Brazil's dollar-denominated bonds yield 2.48 percentage points more than comparable Treasuries, versus a premium of 2.81 percentage points for speculative-grade developing nations rated BB. On average, investors demand 2.06 points in extra yield from investment-grade countries including Colombia and Mexico.
"The debate again shifts back to the loss of the investment-grade rating," Siobhan Manning-Morden, the head of Latin American fixed-income strategy at Jefferies Group LLC, said by e-mail. "Brazil external credit spreads now are diverging from investment-grade peers."
In announcing its outlook change for Brazil on Sept. 9, Moody's cited debt that is now equal to about 60 percent of the country's economy, versus the 39 percent median for countries in its Baa ratings tier.
"If current trends remain unchecked, debt indicators will rise to levels that are not only inconsistent with its current ratings, but that could be at odds with those of Brazil's Baa peer group," Moody's analyst Mauro Leos wrote.
Deteriorating Accounts
In March, Standard & Poor's lowered Brazil's rating to BBB- , one level above junk, citing the slump in Latin America's biggest economy and deteriorating fiscal accounts.
Rousseff would get 40 percent of votes in the first round of the election on Oct. 5, while opposition candidate Marina Silva would receive 24 percent, according to a Datafolha poll published on Folha de S.Paulo's website.
Assuming no one garners a majority, a runoff of the top two finishers would take place, and Rousseff would win 48 percent of votes compared with Silva's 41 percent, the poll showed. The survey of 12,022 people has a margin of error of plus or minus 2 percentage points.
Since taking office in January 2011, Rousseff has boosted spending and increased the government's role in companies, changing concession-renewal rules to lower electricity rates and capping gasoline prices to contain inflation that's above the 6.5 percent limit of the central bank's target range.
Upper Hand
Brazil's gross domestic product shrank by 0.6 percent in the April-June period from the previous three months after contracting a revised 0.2 percent in the first quarter.
While Silva has promised to cut consumer price increases by half and called for a fiscal-responsibility body to monitor budgets and spending independently, Rousseff has regained the upper hand by criticizing her opponent's proposals as recessionary and inconsistent.
Tony Volpon, the New York-based head of emerging-markets research for the Americas at Nomura Holdings Inc., said Rousseff may take a more market-friendly approach if she wins a second term and make small adjustments to current policies.
"She could surprise the market in a second term starting next year, since expectations for improvements are so low," Volpon said in a e-mail.
If Brazil's finances continue to worsen, "a downgrade would be inevitable," said Bianca Taylor, a senior sovereign analyst at Loomis Sayles & Co., which oversees $210 billion in Boston.
On Sept. 30, the government said that excluding interest payments, its budget deficit widened to 14.5 billion reais ($5.9 billion) in August, a record for a month.
Brazil's real declined 0.1 percent to 2.4990 per dollar as of 11:30 a.m. in New York, after tumbling 9.5 percent in the third quarter.
"What led Brazil to this year's downgrade was not one factor, but rather a generalized loss in policy credibility across all sectors," Taylor said in an e-mail. "The most vulnerable area right now is the fiscal accounts."
Before it's here, it's on the Bloomberg Terminal.
LEARN MORE