Ebola Flew to Dallas as Budgets to Fight Disease Waned
John Lauerman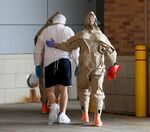 The loss of tens of thousands of public-health jobs and smaller research budgets for infectious disease is leaving the U.S. susceptible to an emerging tide of deadly and dangerous pathogens.
That's the message from public-health advocates pointing to the Ebola case reported in Dallas last month, even as other threats have arisen. Florida faces a mosquito-borne virus that targets seniors with pain that can last for years, while children in Oklahoma and California face a common infection that leaves some patients paralyzed. Even bubonic plague has made a re-appearance, sparking frightening headlines.
"We're as vulnerable globally as our weakest link locally," said Michael Osterholm, director of the University of Minnesota's Center for Infectious Disease Research and Policy in Minneapolis. "We need to respond in virus time."
Funding for U.S. research into infectious diseases, beefed up a decade ago because of the fear of bioterrorism, has waned, according to federal data, slowing progress with the potential to help millions worldwide. In the meantime, a World Health Organization plan to help prepare developing countries for health crises went unfulfilled.
Ebola causes fever and severe internal and external bleeding. The outbreak has infected 7,492 people as of Oct 1, killing 3,439 of them, according to the WHO. Stopping its spread will require investments of $988 million over the next six months, according to a United Nations estimate. While some donors have begun pledging assistance, the fast-moving epidemic is occurring during a worldwide lull in attention after cresting almost a decade ago during concerns about bioterrorism, bird flu and SARS, said David Heymann, chairman of the U.K. Health Protection Agency.
'Memory Short'
"When the crisis arises and becomes a threat, things increase, and when it disappears, the memory is short," said Heymann, a former WHO communicable disease official. "When these events come allocations are made, and after that, it fails."
Disease trackers from the U.S. Centers for Disease Control and Prevention have identified as many as 50 people who may have been exposed to Ebola through a Texas man diagnosed with the virus. The man, who had been in Liberia before returning home to Dallas, was sent home from a local hospital before returning to the center with severe symptoms two days later.
While countries have a tendency to remain complacent when health crises seem remote, health is by its very nature global, said Julio Frenk, dean of the Harvard School of Public Health in Boston. Government officials often need to be reminded of the economic and social importance of preventing disease outbreaks and other health crises, said Frenk, former health minister for Mexico.
Improving Security
"Even the most wealthy and powerful country isn't immune to events that happen beyond its borders," he said in an interview. "Public health is a huge part of improving security."
The Sept. 11, 2001 attacks on the U.S. that were followed by five deaths from anthrax sent through the mail raised a national alert on infectious agents that could be used in bioterrorism. Then-President George W. Bush began a controversial smallpox vaccination effort designed to protect the population from a virus that was eradicated in the late 1970s, yet might be revived and weaponized in terrorists' laboratories.
Bush also increased funds for development of drugs and vaccines to protect against bioterrorism agents. Allocations to the U.S. National Institute for Allergy and Infectious Diseases rose to $4.3 billion in 2004 from $1.8 billion in 2000.
'Sustained Commitment'
The institute has had a "sustained commitment" to developing agents against bioterrorism and naturally occurring infections, said Anthony Fauci, who has headed it since 1984. Programs that began during the era of bioterrorism alertness are bearing fruit now, he said.
"If it weren't for the investment in biodefense, we wouldn't be near having the vaccine and treatment candidates that we have for Ebola that we have now," he said by telephone. "It's greatly influenced in a positive way our preparedness for naturally occurring threats like Ebola."
Yet in 2013 appropriations for the institute dropped to $4.26 billion, their lowest point since 2003, according to the National Institutes of Health website. While the institute's budget rose to $4.39 billion in 2014, purchasing power has been hurt by inflation and the lack of increases, he said.
"The resources have not been sustained," said. "All of NIH's endeavors have been slowed. It's not exclusive to Ebola."
Domestic Capacity
Bush designated about $8 billion to prepare for a pandemic outbreak, much of it to build domestic capacity to make vaccine.
"We have a defense," said Michael Leavitt, who was HHS Secretary from 2005 to 2009 under Bush and oversaw much of the pandemic preparedness effort. "That doesn't mean the defense can show up late and be worth anything."
A deadly virus that spread through the air would be even more difficult to respond to, Leavitt said. The patient diagnosed in Dallas developed symptoms after travel in Africa, and more such cases may arise, he said.
"We've seen a case in Dallas and it won't be the last one," he said. "I don't know how many there will be, but I predict there will be more."
Bush also earmarked about $3 billion from 1999 to 2005 to bolster state and local public health departments' preparation for bioterrorism. Public health laboratories across the U.S. were updated with equipment and personnel to handle and analyze dangerous germs. Supporters said the preparedness would also help protect against emerging diseases.
Trouble Spending
The money for public health flowed in so fast that some states had trouble spending it: a 2006 report from the Department of Health and Human Services Office of the Inspector General found that states had failed to spend $157 million of the $996 million awarded the year earlier. Texas was the leader in unspent money, leaving $13.8 million of its $67.2 million allocation untouched.
Since then, public health departments have been hit with cutbacks, according to the Association of State and Territorial Health Officials in Arlington, Virginia. From 2008 through May, about 51,000 state and local health jobs, about 19 percent of the U.S. total, disappeared, ASTHO estimated this month. Job losses have hit 91 percent of state health agencies, the advocacy group said.
"The cuts have been dramatic and drastic," said Paul Jarris, ASTHO's executive director, in a telephone interview. "In a time like this with Ebola presenting itself in our country, it highlights the need for a skilled and sufficient public health workforce."
Nurse Cuts
The job cuts affect workers such as public health nurses trained in monitoring people who might have come into contact with a person infected with Ebola, Jarris said. Public health nurses in Texas are responsible for watching these contacts for potential symptoms, he said.
In the meantime, mosquito-borne Chikungunya, an infectious disease that causes joint pain with no vaccine or cure, has been seen in a few patients in Florida. Health officials are increasingly concerned about how to control a drug-resistant enterovirus linked to paralysis and at least one death in children.
International plans to prepare for pandemics have also gone by the wayside. In 2005, WHO revised its international health regulations to require member countries to develop core capacities in public health, in part to prepare for the threat of pandemics. Even as the threat of H5N1 bird flu came and went, and swine flu swept around the world, compliance with the health regulations faltered.
Timely Implementation
"The core national and local capacities called for in the IHR are not yet fully operational and are not now on a path to timely implementation worldwide," according to a May 5, 2011 report.
Support for the regulations and their focus on public health was fleeting, said Heymann.
"It's a treaty measure that 194 countries agreed to," Heymann said. "It's a pity that this framework that was so important and so widely agreed to didn't take off."