Bond King Bill Gross Departs for Realm of the Unknown
Gross leaves Pimco and sheds a $200 billion burden
by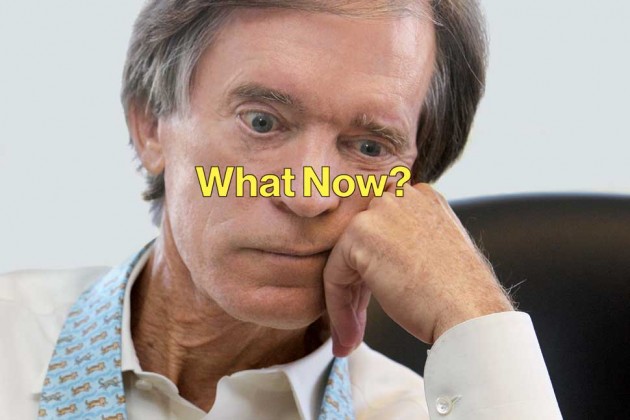 Even for observers accustomed to surprises from Bill Gross, the news that he had suddenly quit Pacific Investment Management Co. and agreed to join Janus Capital Group was a shock. Pimco and Gross have been in turmoil since the departure last January of Mohamed El-Erian, Gross's deputy and expected successor. Reports that El-Erian was driven away by Gross's difficult personality had deeply hurt Pimco's chief investment officer and co-founder, who was convinced that the reasons for El-Erian's decision were more complex. "Gross is an autocrat, a dictator," is how Gross described the way he felt he was being portrayed when he spoke with Bloomberg Businessweek in April. "Whenever I read the newspaper, I say to myself, 'At least my wife loves me.' "
Pimco would have preferred that its founder keep quiet and carry on. But Gross was never one to censor himself, and that's a large part of the reason he's been so successful, as both a fund manager and a financial celebrity. He was seen as an eccentric genius whose quirks were central to his brand. In the end, though, some of the same qualities that helped him earn the title Bond King led to his sudden departure.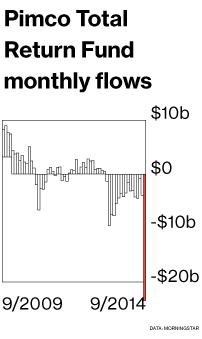 The exit shook Pimco and the markets. The stock of Pimco's owner, Allianz, fell, while Janus stock went up, and investors scrambled to pull money out of Pimco funds. Gross's flagship, the Pimco Total Return Fund, saw $23.5 billion leave in September. The prospect of Pimco selling holdings to meet customer demands for cash caused a selloff in Treasuries, inflation-protected bonds, and the Mexican peso. "Asset managers do change, but usually it is orderly and planned," says Scott Burns of Morningstar. "This wasn't very orderly, it wasn't very telegraphed, it wasn't very planned. That is very disruptive for investors."
Pimco Chief Executive Officer Douglas Hodge says the company was ready for client redemptions. He quickly named three managers to replace Gross at Total Return and promoted Deputy Chief Investment Officer Daniel Ivascyn to be the new CIO. "Our institutional client base, which is a vast majority of our assets, and a number of our retail clients understand that it's still the firm that it was last Thursday, minus one man," Edward Devlin, a Pimco fund manager, said at an investor conference. During a call with investment analysts, Michael Diekmann, the CEO of Allianz, the German insurance conglomerate that bought a majority of Pimco in 2000, said Allianz remained "committed" to Pimco.
Gross co-founded Pimco in 1971 and built it into one of the largest investment firms in the world, managing $2 trillion of pension, endowment, and retirement money. In addition to proving himself as a skilled navigator of the bond markets—his Total Return Fund earned an average 7.9 percent since its launch in 1987—Gross had an intuitive grasp of his role as a brand ambassador and media figure. He catapulted himself into the public eye, appearing frequently on TV to discuss the global economy, interest rates, and Treasury yields, often speaking in his own lexicon of pop culture references, song lyrics, and investment jargon. He sported a shaggy haircut, wore his tie flung over his shoulder, and invited reporters to sit in on his yoga routine.
Gross always had a knack for a surprising metaphor—"You were wooed, Mr. Moody's and Mr. Poor's, by the makeup, those six-inch hooker heels, and a 'tramp stamp,' " he wrote in 2007, commenting on risky securities getting high grades from the ratings firms. In contrast to the bland investor letters coming out of most mutual fund companies, Gross's monthly investment outlook has referenced his cat and Mad Men and offered dating advice.
His flair for self-promotion made him the closest thing to a household name in an industry that produces very few of them. There's Peter Lynch, manager of the Fidelity Magellan Fund from 1977 to 1990, and Bill Miller, whose star rose when he beat the Standard & Poor's 500-stock index 15 years in a row at his Legg Mason Value fund and faded quickly after the streak dried up. The power of Gross's personality to dazzle investors is particularly evident when he's compared with Dan Fuss of Loomis Sayles. While Fuss's performance numbers are as impressive as Gross's, if not more so, he keeps a lower profile—and manages far less money.
Pimco's biggest growth spurt came after the financial crisis. Gross had helped Pimco sidestep most mortgage bonds, leaving it in a strong position in 2008, when the real estate collapse devastated the market. The public rushed out of stocks and into bond funds. According to Morningstar, $101 billion of fresh cash flowed into Total Return from 2008 to 2012, and the fund almost doubled.
With that much money to deploy, even Gross found it hard to move nimbly, and the fund's returns started to fall off—as the old joke goes, it's hard to beat the market when you are the market. He built his portfolio to profit when interest rates rose and then suffered losses when they stayed near historic lows, which didn't make investors happy. This year, Total Return saw its five-year performance ranking drop to the 62nd percentile, according to data compiled by Bloomberg. As of Oct. 1, the fund had seen 17 straight months of investor withdrawals.
Other Pimco executives became increasingly unhappy with Gross in recent months. "Ever since the Mohamed departure, the knives were out for Bill," says Kurt Brouwer, chairman of advisory firm Brouwer & Janachowski, who's invested in Pimco funds since the 1980s. Gross's former colleagues, some of them executives he had hired and helped promote, started to talk about the possibility of firing him, and Pimco's executive committee met to see whether there were enough votes to oust him, according to a person with knowledge of the firm who declined to be identified because the deliberations were private. "I made these people rich," Gross said of Hodge and other top executives, according to the person. "While we are grateful for everything Bill contributed to building our firm and delivering value to Pimco's clients," Hodge said in a statement, "over the course of this year it became increasingly clear that the firm's leadership and Bill have fundamental differences about how to take Pimco forward."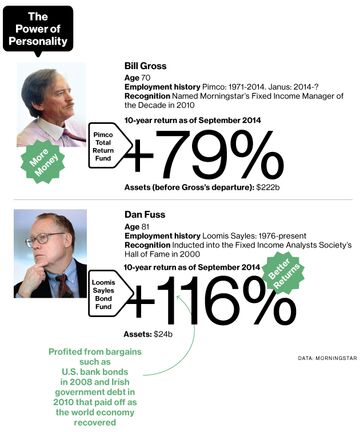 Gross's exit was unlike any other star fund manager's, which is probably just how he wanted it. "I look forward to returning my full focus to the fixed-income markets and investing, giving up many of the complexities that go with managing a large, complicated organization," Gross said in a statement. He declined to comment for this story. At Janus he'll be managing a much smaller pool of money—as of May, its Global Unconstrained Bond Fund had just $13 million in assets—so he may find it easier to generate above-average returns.
The question now is what remains for Gross to prove—and why he still would feel the need to prove anything. He's 70 and, after having built one of the world's premier financial institutions, is worth more than $2 billion. He's an active philanthropist, frequently donating the profits from his stamp collecting hobby to charity. But some combination of ego, injury, and a compulsive need to control the narrative appears to be driving him. That and an obsession with beating the bond market.
Before it's here, it's on the Bloomberg Terminal.
LEARN MORE