Rail Jams Snarl Canada Grain Sales Even as Crop Shrinks
Jen Skerritt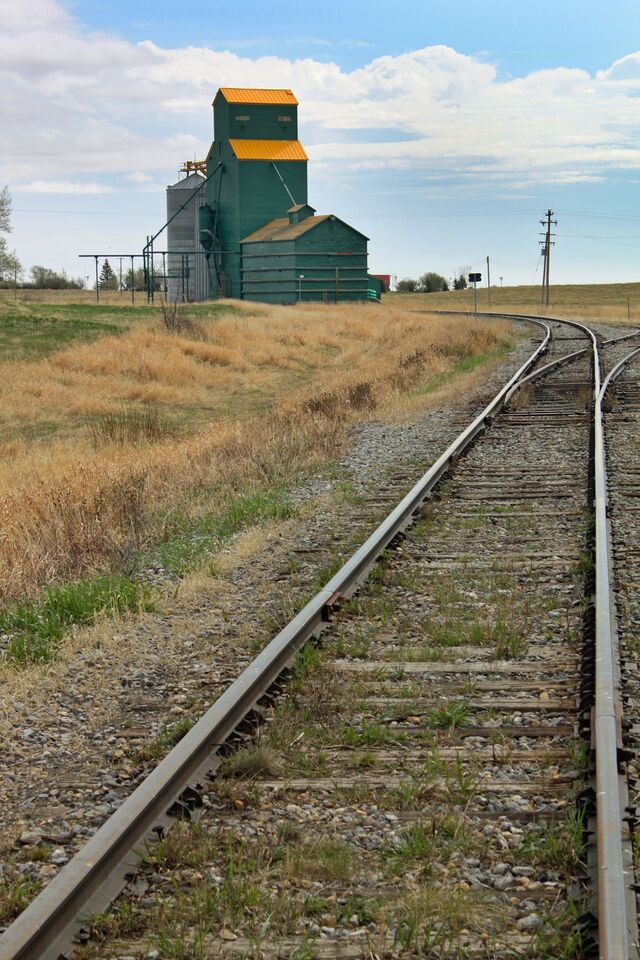 Even with a grain harvest falling below last year's record, Western Canadian farmers can't find enough rail cars in the right places to move their crops.
Wet, cool weather across parts of the Canadian prairies has reduced the amount of high quality grain available, helping to fuel another showdown between shippers and the nation's largest railways. While the crop is 20 percent smaller than last year's, it will be harder to find and move the right grades to match export sales.
Grain shippers said railways haven't been supplying enough cars, and about 24,000 orders for transport on the prairies haven't been filled. Canadian National Railway Co., facing a fine for failing to meet its minimum weekly grain shipping target, said farmers haven't been delivering enough grain to country elevators to comply with the government order.
"The logistics become more complicated," said Mark Hemmes, president of Quorum Corp., an Edmonton-based company hired by the federal government to monitor Canada's grain transportation system. "I think the risk is just making sure you've got the right grain at the right place at the right time."
Shortages of rail cars to move last year's record wheat and canola crops left a backlog of as much as C$20 billion of grain stuck on prairie farms.
While total Canada crop production is forecast to drop by about 20 percent to 76 million tons from 97 million tons a year earlier, output remains 3.5 percent above the five-year average, the government said in a Sept. 18 report.
Rail Backlog
Wayne Bacon couldn't find enough rail cars to ship last year's bumper crop from his 6,500-acre farm in Kinistino, Saskatchewan. This year, he can't move his smaller wheat harvest.
"We haven't moved any grain this year except for canola," Bacon, 68, said in a telephone interview. "It just seems like we never got over that backlog."
Grain elevators located on less-traveled rail lines are not getting enough cars to move crops, Norm Hall, president of the Agricultural Producers Association of Saskatchewan, said in an Oct. 1 telephone interview. Some farmers are still unable to sell grain leftover from last year's harvest due to the transport shortage, he said.
"They're just frustrated," Hall said. "They might be going into default and losing their sales."
Companies may need to gather grades of grain from multiple locations on the prairies to fulfill sales orders, unlike last year when crop quality was consistent, Quorum's Hemmes said. There were 16 partially-loaded ships waiting for grain in Vancouver as of Sept. 18, above the average of 8 to 10 vessels.
Wet Weather
Wet weather delayed seeding across parts of the prairies and harvest progress was slowed due to continued rain and below-average temperatures. Moisture, disease and frost have damaged crops in parts of Saskatchewan, Canada's largest producer of spring wheat and canola, the province's agriculture ministry said in a Sept. 25 report.
Some of Canada's wheat crops have suffered damage from moisture and frost that can cause holes in bread or make a loaf collapse, Daryl Beswitherick, program manager for quality assurance at the Canadian Grain Commission, said in a Sept. 29 telephone interview. Canada is known for its high-quality milling wheat and foreign buyers may try to source grain from the U.S. or Australia to meet their needs, he said.
'More Precise'
"The transportation system this year will have to be more precise," Wade Sobkowich, executive director of the Winnipeg-based Western Grain Elevator Association, said in a Sept. 18 telephone interview. "What's going to be more important is getting the grain from the precise locations to where we need them because of the crop quality issues we're facing."
The government announced in August that Canadian National Railway and Canadian Pacific Railway Ltd. would each be required to move 536,250 tons of grain a week between Aug. 3 and Nov. 29 or face penalties. A similar order was imposed in March to clear a backlog of grain on the prairies.
Canada decided to fine CN because the railway "was not able to meet the minimum volume requirements," Jana Regimbal, a spokeswoman for Transport Minister Lisa Raitt said in a Sept. 17 e-mail. The government declined to disclose how much below the target CN was as the "details are commercially sensitive and therefore cannot be shared," Regimbal said.
Canadian Pacific has met the volume requirements, she said.
Transparent Data
The railways are not meeting shippers' needs and companies are struggling to meet sales demand to eastern Canada and the U.S., Sobkowich said. There is no transparent data available to assess whether railways are meeting the grain thresholds outlined in a government order, he said.
"The fact that CN hasn't complied with the order in certain weeks shows that the consequences for not meeting the order are not sufficient," Sobkowich said.
Canada's federal government should lower the shipment minimum because farmers haven't been delivering enough grain to allow railroads to comply with the order, Canadian National Railway Chief Executive Officer Claude Mongeau said Sept. 22 in Montreal.
Canadian Pacific has moved more grain this year than it ever has before and the railway continues to be positioned to move significant volumes of grain, spokeswoman Breanne Feigel said in a Sept. 30 e-mail.
"I'm not sure where CN is getting the idea that there isn't grain to handle," Agriculture Minister Gerry Ritz said in a Sept. 23 teleconference with reporters. The government expects the railway to "pick up their game," he said.
Wheat Prices
Shares of Canadian National rose 27 percent percent this year through yesterday and Canadian Pacific jumped 46 percent.
The price of wheat, Canada's biggest crop, is down 20 percent in 2014 to $4.8275 a bushel on the Chicago Board of Trade as the U.S. Department of Agriculture predicts global harvests will rise to a record 719.95 million metric tons. Canola in Winnipeg tumbled 11 percent this year to C$398.20 a ton.
Farmers who contracted to sell higher quality wheat will have to sell at a discount, said Doug Chorney, a farmer and president of Keystone Agricultural Producers. That will put a dent in their income since many farmers spent more money this year on seed, fertilizer and propane to dry wet grain.
"It's going to be a sad story for a lot of farms this year," Chorney said. "That's a lot of money out of pocket if you don't grow a crop or you grow a crop you can't sell."
Before it's here, it's on the Bloomberg Terminal.
LEARN MORE