Oversized $30 Million Koons Monkey Heads to Christie's
Katya Kazakina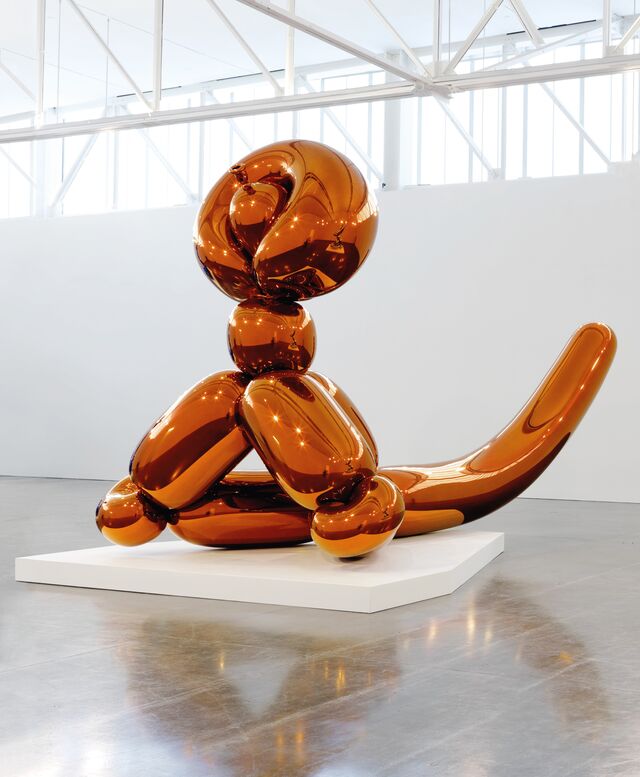 Multimillionaire British collector Frank Cohen waited eight years for the Jeff Koons sculpture he had purchased to be completed. It turned out that "Balloon Monkey (Orange)" was too big for his nonprofit art center in London.
So now he's selling it. The 2006-2013 orange stainless steel creature is heading to Christie's with an estimate of $20 million to $30 million and will be among the highlights of the bellwether postwar and contemporary evening sale on Nov. 12 in New York. At Sotheby's on Nov. 11, artist Damien Hirst is said to be parting with a Koons artwork he owns, according to a person familiar with the matter who asked not to be named because the information is private. "Moon (Yellow)," a stainless-steel sculpture of a mylar balloon that can be mounted on a wall, is estimated at $12 million to $18 million.
Koons became the most expensive living artist at auction after his 1994-2000 sculpture, "Balloon Dog (Orange)," fetched $58.4 million at Christie's in November 2013. His auction sales this year through today totaled a record $99.9 million, surpassing his previous high of $89.3 million in 2008, according to Paris-based arts data researcher Artprice.
For six weeks starting Oct. 6, the 12.5-foot-tall, 20-foot-long "Balloon Monkey (Orange)" will be displayed in front of Christie's Rockefeller Plaza headquarters.
Outdoor Piece
"It's an incredible outdoor piece," said Nicolai Frahm, who co-founded with Cohen the Dairy Art Centre near the British Museum in London in 2013 and who confirmed Cohen is selling it. "He originally had a specific place for it, which didn't work out. It's too massive, unfortunately. He thought it didn't make sense to keep something incredible like this in storage."
Cohen unsuccessfully approached a number of museums once he realized the sculpture wouldn't fit indoors and was "too big for the space outside," Frahm said. "It would look ridiculous. It could be vandalized."
Cohen didn't return calls and an e-mail seeking comment. Manchester, England-born Cohen, ranked as one of the world's top 200 collectors by ArtNews in 2014, sold his stake in the home-improvement retailer Glyn Webb in 1997. His collection includes art by Tracey Emin, Stanley Spencer and Ai Weiwei.
"I'm opening this space because of my passion for art," Cohen said in a Bloomberg News interview last year about Dairy Art Centre.
Museum Show
Koons's career retrospective at the Whitney Museum of American Art has attracted 250,000 people from its opening in June through Sept. 30, making it one of the best attended exhibitions in the museum's history, according to the museum. The show closes on Oct. 19.
"Jeff wanted something that had a sense of abstraction and was very recognizable," Brett Gorvy, Christie's chairman and international head of postwar and contemporary art, said about the monkey sculpture. "Everything he did with Balloon Dog he took a step further."
The work is one of five unique versions, each in a different color. Another monkey was exhibited at Gagosian Gallery in New York in 2013, along with two other inflatable creatures, a rabbit and a swan.
"The monkeys are important to Jeff," Gorvy said. "It's a very lovable, peevish character. In Chinese symbolism, it's something very positive."
Yellow Moon
"Balloon Dog (Orange)," which was bought by New York art collector Jose Mugrabi, attracted bidders from the Middle East, Asia, Mexico and Europe, according to Gorvy. He said he expects similarly global competition for the monkey.
"So many of our clients are looking for large-scale, outdoor sculpture whether it's by Koons or Calder," Gorvy said.
The Sotheby's "Moon (Yellow)" Koons sculpture is part of the artist's Celebration series that includes "Balloon Dog" and some of other most expensive Koons works sold at auction. Works from the series are owned by billionaire collectors Francois Pinault, Steven A. Cohen and Victor Pinchuk, dealers said.
Each of the five versions of the moon sculpture is painted in a different color and measures 11 feet in diameter. They have never appeared at auction until now and remained in the collections of the original buyers, according to Alexander Rotter, co-head of Sotheby's worldwide contemporary art department.
Pink Version
Pinault, Hirst and Greek industrialist Leonidas "Dakis" Joannou have publicly shown their versions of the Moon. Pinault included "Moon (Light Blue)" in a 2006 exhibition at Palazzo Grassi, his private museum in Venice. Joannou showed "Moon (Silver)" in 2007 at his DESTE Foundation for Contemporary Art, a nonprofit exhibition space in Athens that he established. Hirst included "Moon (Yellow)" in the display of his private Murderme Collection at the Serpentine Gallery in 2006. The reflective light pink version is currently on view at the Whitney exhibition.
Rotter declined to comment on the identity of the seller of "Moon (Yellow)." Jude Tyrrell, director of operations at Hirst's company, Science Ltd., didn't immediately reply to an e-mailed request for comment.
"It was always considered very desirable because you can hang it on the wall," Rotter said of the moon sculptures. "I chased it for a long time."
Before it's here, it's on the Bloomberg Terminal.
LEARN MORE