What Can the McLaren Racing Team Teach the Rest of Us?
What can the McLaren racing team teach the rest of us?
By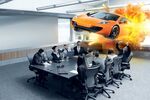 Six laps into the 2008 Monaco Grand Prix, Lewis Hamilton's McLaren race car skidded on the rain-slicked pavement, bumped against a barrier, and blew out its right rear tire. At the time, Hamilton, a gifted, impatient driver and one of auto racing's biggest stars, was in second place. A puncture is a serious setback in any Formula One competition. In Monaco, the most prestigious title on the schedule, it's a disaster: The course is laid out on the principality's twisting, hilly streets, rather than a purpose-built racetrack, so passing is nearly impossible, and ground lost is particularly hard to regain. The three-time Formula One champion Nelson Piquet once likened the race to "riding a bicycle around your living room." Rain only compounds the challenge.