Sustainable Could Become a Food Group
A federal panel wants U.S. diets to be more environmentally friendly
By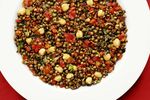 Every five years the federal government issues dietary guidelines to provide practical advice for healthy eating. There have been instructions to eat more whole grains and less saturated fat, sugar, and sodium. The 2015 update for the first time may tell Americans to pay attention to how their food is grown, not just what's in it.
In July the Dietary Guidelines Advisory Committee, a 14-member panel appointed by the Department of Health and Human Services and the Department of Agriculture, circulated a draft document that suggests Americans reduce their consumption of meat and dairy and eat more plant-based foods. The draft was based on studies showing that lowering meat consumption cuts greenhouse gas emissions, lessening the contribution our eating habits make to climate change. Final guidelines are due to be issued in late 2015.

Earlier versions of the dietary guidelines, which form the basis for federal food and nutrition programs like subsidized school lunches, have encouraged Americans to eat leaner meat, but not to eat less meat altogether. "A dietary pattern that is higher in plant-based food and lower in animal-based foods is more health-promoting and is associated with lesser environmental impacts—energy, land, and water use—than the current average American diet," Miriam Nelson, a Tufts University nutrition professor who chairs the advisory panel's subcommittee on food sustainability and safety, said at a public meeting in September. Members of the advisory panel declined to be interviewed.
The panel's embrace of sustainability has drawn fierce opposition from conservatives. The House Appropriations Committee instructed Agriculture Secretary Tom Vilsack, who is responsible for approving the final guidelines along with Health and Human Services Secretary Sylvia Mathews Burwell, to make sure the committee doesn't "pursue an environmental agenda." Capital Research Center, a conservative think tank focused on environmental issues, recently issued a five-page report titled "Meet the 'green' radicals who want to plan your menu."
Some in the meat industry also oppose the proposed dietary guideline change. "We agree that more plant foods should be consumed, but not at the expense of nutrient-dense protein," Betsy Booren, vice president for scientific affairs at the American Meat Institute, said in a statement after the draft came out in July.
Marion Nestle, a New York University nutrition professor and critic of the food industry's influence on policy, applauded the advisory panel for making the connection between environmental protection and healthy eating. "We don't have an agricultural policy linked to health policy," says Nestle, who served on the dietary guidelines panel in 1995. "We should."
BOTTOM LINE -
The bottom line: A federal panel says eating less meat may help protect the environment and Americans' health.
Before it's here, it's on the Bloomberg Terminal.
LEARN MORE