Intel Goes Gadget Crazy
From smart urinals to cupcake ATMs, CEO Brian Krzanich is taking the chipmaker way past PCs
By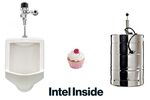 Intel Chief Executive Officer Brian Krzanich is obsessed with startup culture. He visits maker faires, tinkers with robots and drones, and wires smart gadgets into his house. After his engineers demonstrated a centralized smart thermostat system designed to operate throughout a city, including in industrial buildings, he installed a beta version in his San Jose home. He wasn't satisfied with some of its software, so he tweaked the Unix code himself and passed the fixes along to the engineers.
Intel is this year's top performer on the Dow Jones industrial average, up 35 percent as of Sept. 30, and the chipmaker has been able to coast somewhat on its dominance of the market for servers, 98 percent of which carry its semiconductors. Krzanich, who took over the top job last year, has to keep the good news coming while trying to solve a nagging problem that also plagued his predecessor, Paul Otellini. The company has struggled to make a dent in the market for the low-power chips used in mobile devices—it's losing $1 billion a quarter in the business, despite discounting deeply to encourage phone and tablet makers to use its chips. "I know what not to do," says Krzanich, 54. "I need to now figure out what to do."
That's one reason Krzanich is haunting maker faires and tinkering at home after work. He's looking for the Next Big Thing in tech and taking a kitchen-sink approach, putting Intel chips into data-driven devices that fall under the banner "Internet of Things." "We missed the impact of how big tablets are going to be. Shame on us for that," says Chief Financial Officer Stacy Smith. "Now we're off looking—even before we know if a market is going to form." Early Intel-driven products on the market include a wheelchair, endorsed by physicist Stephen Hawking, that collects biometric data about the user; a cloud-connected scale that can also measure body fat; and a PepsiCo-branded fountain machine that can concoct custom soda flavors.
At Intel's September conference for hardware companies in San Francisco, the company showed off products including a so-called smart urinal, which can monitor use in high-traffic locations such as airports and schedule maintenance during low-use periods. (They're already installed in one of Heathrow's terminals.) Another gadget relying on Intel chips featured at the conference was a still-in-beta beer tap from startup SteadyServ Technologies that keeps track of how full a keg is. Sprinkles, the California bakery chain, is testing about 10 Intel-powered cupcake ATMs in six states.
Saia Freight, a trucking company that ships goods for Wal-Mart Stores, uses new software running on Intel chips to manage its fleet. The processors track when drivers shift gears and analyze ways to improve fuel efficiency. Saia says the technology has cut $15 million off its fuel bill since the company began using it earlier this year.
Krzanich has been at Intel for 32 of its 46 years, longer than Mark Zuckerberg has been alive. He started as a process engineer on an Intel semiconductor factory floor in New Mexico, with a brand-new bachelor's in chemistry from San Jose State University, and rose to run a Massachusetts factory in 1997. He was almost invisible outside Intel when he took over the company's global assembly and testing operations in 2003 and the division in charge of chip design four years later. In 2012, Otellini named him chief operating officer, putting him next in line for the top job.

His quiet years in charge of assembly lines and other factory processes inform Krzanich's new priorities as CEO. Otellini rose through the ranks as a salesman, and his biggest achievement may have been talking Apple's Steve Jobs into using Intel chips. Krzanich is a nerd, sometimes dressed in a hoodie, jeans, and worn-out sneakers. He looks more at home in a garage than a boardroom and brightens when talking about his young daughter compiling lists of bugs in his products. It runs in the family, he says: "My father was an engineer. All along as I grew up it was just kind of assumed I would become an engineer."
The former factory boss has put pressure on mobile chip designers to have products ready for market on a more stringent schedule, encouraging them to build on existing designs rather than push the chip technology if it means blowing deadlines. Intel's mobile customers include Samsung, and Krzanich says his company is on course to ship 40 million tablet chips this year.
He'll have a much harder time making that number next year, when the company plans to stop paying mobile device makers to use its chips. A test of Intel's consumer appeal will come this holiday season as PC makers using new lower-power Intel processors try to persuade shoppers to buy new laptops instead of the latest iPhone and Apple Watch. Tristan Gerra, an analyst for financial-services firm Robert W. Baird, doesn't like Intel's chances. "With notebooks, people replace it only when the old one is so bad that they have to," he says.

The PC market, on course for its third annual decline, is showing signs of a possible rebound as corporations begin to replace their aging computers. In the years or decades before Intel starts making real money by selling chips for smart urinals and robots, Krzanich needs a pickup in PCs to keep his factories running at peak capacity. Once the corporate boomlet is over, it's far from certain that consumers will also replace their PCs, or that Intel can retain its overwhelming control of the server market. Paramesh Gopi, CEO of competing chipmaker Applied Micro Circuits, says of Intel's position, "Nothing has ever survived like this for 20 years. There's no economic dynamic that says it won't shift."
Krzanich believes he can persuade consumers to put down their iPads. His current favorite toy is an Intel-equipped Dell tablet, scheduled for the holiday season, that the companies say is the world's thinnest. While the sleek design is important, Krzanich is far more excited about its advanced ability to analyze images. Airlines might use it to take and assess pictures of cargo, he says, allowing them to calculate precisely how much of it will fit in a plane and in what order it should be loaded.
The tablet deal was born during a dinner conversation between Krzanich and Michael Dell, and the finished product includes design choices that the Intel CEO reviewed and approved. Krzanich is also hedging his bets by investing in Chinese chip designers; Intel announced on Sept. 26 that it will spend as much as $1.5 billion on a stake in Tsinghua Unigroup, which owns RDA Microelectronics and Spreadtrum Communications. "The world of markets waiting for us is gone," he says, and Intel can't afford to feel comfortable anymore.