For the Fed's Janet Yellen, It's No More Ms. Nice Chair
Yellen is still perceived as a dove, but investors who bet on that may be in for a nasty surprise
By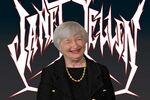 Federal Reserve Chair Janet Yellen has been called a dove so many times, including in this magazine, that one half-expects to spy white feathers protruding from her black suits. Her career has taken her through such liberal enclaves as New Haven, Cambridge, Mass., and Berkeley, Calif. She's married to a rumpled lefty (and Nobel laureate) who once called the George W. Bush administration "the worst government the U.S. has ever had." She's devoted much of her research to unemployment, the doves' No. 1 concern. This March, in her first speech as Fed chair, she broke from the Fed's tradition of depersonalizing policy by introducing three "brave men and women" who were struggling to find jobs. When President Obama nominated her last year to head the Fed, bond king Bill Gross told Bloomberg TV, "She's a dove, actually, with a capital D."
It's time for a reappraisal. With apologies to the legendary Gross and other labelers, Yellen isn't a true dove—that is, someone who consistently puts fighting unemployment above keeping a lid on inflation. The perception that she is may be the biggest misunderstanding in all of finance and economics. Investors and corporate executives who bet that rates will remain superlow in coming months and years because the Yellen-led Fed will hang back could be in for a nasty surprise.
Instead, Yellen is what her former Fed colleague Laurence Meyer calls a "circumstantial dove." She's favored easy money until now because the economy has been exceptionally weak, but she's vowed that when circumstances change, so will she. "I've said repeatedly, and I want to say again, that if events surprise us, and we're moving more quickly toward our objectives … we have the flexibility to move," she told reporters after the rate-setting meeting on Sept. 17. Simply put, she's a pragmatist. Some people don't believe it. They're convinced that the Fed will "fall behind the curve" and that a Yellen-led Fed will allow runaway inflation.
Advice to the skeptics: Believe the lady. Roberto Perli, a former Fed staffer who heads global monetary policy research for Cornerstone Macro in Washington, says it's "completely, 100 percent wrong" to call Yellen a dove. "She likes to look at the data and let the data tell her which way the policy should go," he says. "The last few years she has been extremely dovish because the economy was crappy."
Far from leading the Fed's doves, Yellen is probably closer to the median of Fed policymakers. Antulio Bomfim, a senior managing director at the consulting firm Macroeconomic Advisers, puts her a bit to the dovish side, while Drew Matus, deputy chief economist of UBS Securities in New York, places her squarely in the middle. Matus has closely studied the Fed's quarterly "dot plots," which use dots to show where members of the Federal Open Market Committee (FOMC) stand on the appropriate pace of rate hikes. The dots aren't labeled by name, but from scrutinizing the public record Matus says Yellen's dot placement is more hawkish than those of the Reserve Bank presidents in Boston, Chicago, Minneapolis, Atlanta, and San Francisco, as well as three members of the Fed's Board of Governors in Washington.
The greater risk with Yellen may be the opposite one—that she will switch to worrying mainly about inflation, leading the Fed to tighten interest rate policy too much, choking off the economic recovery and inadvertently harming people on the margins of the working world. J. Bradford DeLong, an economist at Yellen's former school, the University of California at Berkeley, recently wrote on his blog, "Since 1979 the Federal Reserve has built up enormous credibility as the guardian of price stability and has wrecked whatever credibility it had as the guardian of low unemployment."
 
 
It's easy to see why doves would like to claim Yellen as one of their own. She's friendly, methodical, and a bit of a nerd. She has a stamp collection valued at more than $15,000. She was the valedictorian of her high school class in Brooklyn. She met her husband, George Akerlof, in the cafeteria of the Fed on Constitution Avenue in Washington. She taught for decades at Berkeley's Haas School of Business between multiple stints in government, including chair of President Clinton's Council of Economic Advisers and president of the Federal Reserve Bank of San Francisco. She's a specialist in labor economics but has written on topics ranging from the value of free trade to the (minimal) impact of welfare on out-of-wedlock childbirth.
In a field that prizes flashy prowess in econometric techniques, Yellen is known as judicious and grounded in real-world issues. "I think of her as the person who likes to take the time to really understand something and not necessarily [as] someone who's particularly good on the fly," says Andrew Rose, a former Haas colleague. She also knows how to manage; she showed that at the San Francisco Fed, which has a budget of more than $500 million. "She's warm. She's smart. She's funny," says Rose.
Soft, though, she's not. Economics is a notoriously sharp-elbowed and masculine corner of academia, and Yellen made a place for herself in it. She was the only woman among two dozen people who earned Ph.D.s in economics from Yale in 1971. Minutes of Fed meetings going back to the 1990s show her standing up for her views even when in the minority. Princeton economist Alan Blinder says Yellen "can be at times more assertive" than her predecessor, the Zen-like Ben Bernanke. Blinder, a colleague of Bernanke's at Princeton, served with Yellen on the Board of Governors and later wrote a book with her. "Some of the people close to her, some of the people on the [FOMC], on the Fed staff, might see real expressions of concern, or happiness, or anger, whichever it is," Blinder says. "With Ben, other than his wife, I'm not sure anybody ever saw that."

If Yellen turns hawkish over the coming year, it won't be for the first time. Meyer says that when he and Yellen served together on the FOMC, they went together to Chairman Alan Greenspan's office before a committee meeting in September 1996. The economy was growing briskly, and the two thought Greenspan was being too soft. "We told the chairman that we loved him but could not remain at his side much longer" if he stood in the way of raising interest rates, Meyer wrote in 2010 on the blog of Macroeconomic Advisers, of which he is co-founder and senior managing director.
As tough a job as Bernanke had during the financial crisis, he had strong support from fellow Feddies. Even Fed officials who fret about inflation and asset bubbles could see that the deepest downturn since the Depression called for desperate measures. But the stronger the economy gets, the more pronounced inflation fears become. This month the Bernanke-era bond purchases that have been aimed at holding down long-term interest rates—quantitative easing—are expected to end.
For Yellen, the question is what to do next, and more important, when. The rate-setting FOMC, which she heads, has been saying it will begin raising the federal funds rate "a considerable time" after completing quantitative easing. Until now, the committee has papered over disagreements among voting members by giving no definition of how long "considerable" is. From the Oct. 28-29 meeting on, it will no longer be possible to postpone that debate for another day. The clock on a rate hike is about to start ticking, pitting hawks against doves in a polite but deadly serious struggle for influence over the U.S. economy.
As the Fed's vice chair and now chair, Yellen has gone out of her way to connect with the resident hawks. "I have always found her to be a superb working partner, a good listener, and a thoughtful leader," Richard Fisher, president of the Federal Reserve Bank of Dallas, wrote in an e-mail. He added: "Ben Bernanke did a superb job of airing all views within the Committee and pulling the group together when it counted most. In her first several meetings, Janet has, in my view, elevated this to an even higher art form." (That didn't stop Fisher from dissenting, along with Philadelphia Fed President Charles Plosser, at the FOMC's September meeting.)
Yellen showed a clear understanding of the hawks' case when she gave a much-anticipated speech in August at the annual conclave of global central bankers at Jackson Hole, Wyo. Instead of defending the Fed's easy money policies, she chose to be circumspect and inclusive. The speech was a masterly exposition— replete with 21 footnotes—of the research in her academic specialty, labor economics, that acknowledged that no one knows for sure what the right course is.
"It speaks to the depth of the damage that, five years after the end of the recession, the labor market has yet to fully recover," Yellen said at the start. From there she did a good impression of Harry Truman's two-handed economist. On the dovish side, she said, nearly 5 percent of the labor force is employed part-time, suggesting there are plenty of workers who could go to work full-time if needed. On the hawkish side, though, she said, maybe the bulge in part-timers is from changes in the nature of the economy, in which case it doesn't imply labor slack. On one hand, she said, workers have increased their productivity faster than their pay has gone up, meaning their wages "could rise more quickly without exerting any meaningful upward pressure on inflation." On the other hand, maybe labor's share of the pie has been permanently reduced because of "changing patterns of production and international trade." And so on to her perfectly noncommittal conclusion: "As I have noted many times, monetary policy is not on a preset path. The committee will be closely monitoring incoming information on the labor market and inflation in determining the appropriate stance of monetary policy."
What this means for jobless Americans is that Yellen is not their superhero defender. She's serious about putting people back to work, but she won't risk overheating the economy to do so. In 2000, when Greenspan ran the Fed, the unemployment rate briefly dipped as low as 3.8 percent. Employers were so desperate for help that they hired ex-convicts, the unskilled, the long-term jobless, and racial minorities that some of them might have preferred to avoid. A rising tide really did lift all boats, but wage inflation crept up to 3.5 percent. A nervous Fed jacked up the federal funds rate to 6.5 percent—and a mild recession began in 2001. According to the latest economic projections of FOMC members, the lowest jobless rate that any member considers consistent with low and stable inflation is 5 percent.
 
 
Investors haven't wrapped their minds around the notion that Yellen's Fed will raise interest rates sharply over the next few years. Collectively, they seem to disbelieve the dot plot, which shows that the median Fed voter wants a federal funds rate of almost 1.5 percent by the end of 2015 and roughly 3 percent by the end of 2016. Traders in the federal funds futures market are expecting rates of less than 1 percent by the end of 2015 and less than 2 percent by yearend 2016, according to data compiled by Bloomberg.
"Every single client meeting I have at the moment is about this issue," says Torsten Slok, chief international economist for Deutsche Bank in New York. He argues that investors are courting trouble by underestimating the determination of Yellen's Fed to raise rates. Under Bernanke, and now Yellen, Fed rate-setters have cried wolf. They repeatedly predicted strong growth and a rising fed funds rate, only to keep rates superlow when the growth failed to materialize.
Investors either think Yellen is a dove or doubt that the Fed will ignite stronger growth that would justify higher rates. In either case, Slok worries that when it becomes apparent the Fed really is tightening, investors will bail out of corporate bonds all at once, which will send long-term interest rates soaring, prompting companies to slow their investment in plants and equipment. The shock could even cause a recession, he says, though that's not his main forecast.
Oh, and Bill Gross, who called Yellen a Dove last year? He just decamped from Pacific Investment Management Co., the bond investment firm he co-founded. But before he left he wrote about how the "new neutral" rate for federal funds is about 2 percent. That makes him considerably more dovish than the FOMC led by Janet "capital D" Yellen.
It makes sense that Yellen wouldn't be a dove through and through. To establish their anti-inflation bona fides, and thus keep the interest expenses on their debt as low as possible, governments need to appoint a central banker who's more hawkish on inflation than the government itself, economist Kenneth Rogoff of Harvard University theorized in 1985. And yup, Yellen is probably more hawkish than the man who nominated her, Obama. Yellen clearly cares about unemployment. "These are not just statistics to me," she famously said of the jobless in a speech last year. But more than a dove, Yellen is at heart a central banker. The coming year may well make that clear to the world.
Before it's here, it's on the Bloomberg Terminal.
LEARN MORE