Eric Holder's Mixed Legacy—and What's Next for His Successor
Holder's successor likely faces a bruising confirmation fight
Paul M. Barrett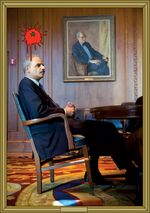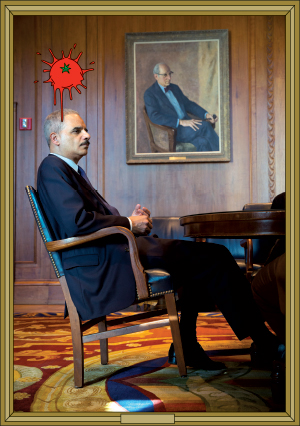 For almost six years, Attorney General Eric Holder, President Obama's political ally and personal friend, has provided congressional Republicans with their favorite secondary target for unmitigated vitriol. The attacks peaked in 2012, when House Republicans voted to hold the nation's top prosecutor in contempt of Congress for refusing to release documents related to a botched gun-trafficking investigation known as Operation Fast and Furious.
Now Holder is moving on. The hyperbole and conspiracy theories suffusing the long campaign against him make it more difficult to assess the departing attorney general's legacy—but easier to forecast the coming battle to replace him. Allowing himself a rare moment of public emotion, Obama called the Sept. 25 announcement of the resignation of the nation's first black attorney general a "bittersweet" occasion. "He believes, as I do, that justice is not just an abstract theory," Obama said. "It is a living and breathing principle."
Republicans gave Holder a different sort of send-off. "The most divisive U.S. attorney general in modern history," declared Representative Darrell Issa of California. "A roadblock on the path to justice," added House Judiciary Committee Chairman Bob Goodlatte of Virginia. Foreshadowing the fight over Holder's replacement, Senate Minority Leader Mitch McConnell of Kentucky said the attorney general had "placed ideological commitments over a commitment to the rule of law." McConnell vowed to devote himself to "scrutinizing the president's replacement nominee to ensure the Justice Department finally returns to prioritizing law enforcement over partisan concerns."
Much of the Republican rage toward Holder reflects the attorney general's role as the administration's point man for controversial policies on race, voting, incarceration, and gay rights. Holder, who looked to his predecessor Robert F. Kennedy as a model, reinvigorated the agency's civil rights division. He successfully challenged state voter-identification laws blatantly intended to keep nonwhite (read: Democratic) voters from casting ballots and opposed state laws that keep ex-cons, who are disproportionately likely to be black, from voting after they've done their time. He also encouraged federal investigations of police departments accused of cracking down on black citizens—most recently in Ferguson, Mo., where a white cop killed an unarmed black teen this summer. To many liberal voters, and especially to black voters, these actions have made Holder a hero, someone bolder than his boss when speaking about discrimination. "There has been no greater ally in the fight for justice, civil rights, equal rights, and voting rights than Attorney General Holder," said Myrlie Evers-Williams, the widow of civil rights pioneer Medgar Evers.
Holder also accelerated Obama's "evolution" toward embracing same-sex marriage. In 2011 the attorney general refused to enforce the Defense of Marriage Act, a federal law signed by President Bill Clinton that defined marriage as between a man and a woman. It took another year for Obama to squarely endorse gay marriage. In 2013 the U.S. Supreme Court struck down a central element of DOMA. Since then, at least 20 states have had their same-sex marriage bans invalidated by lower courts.
National security is one area where Holder's taken flak from the Left, for anti-civil-liberties stances in a time of heightened anxiety about terrorism. The New York Times editorial page, while generous about his legacy overall, called it "marred" by "deeply harmful actions" such as providing legal justification for the targeted killing of terrorism suspects overseas. He aggressively pursued government officials and reporters over leaks of classified information. On his watch the Justice Department prosecuted more people under the Espionage Act than it had during all previous administrations since the law was passed in 1917.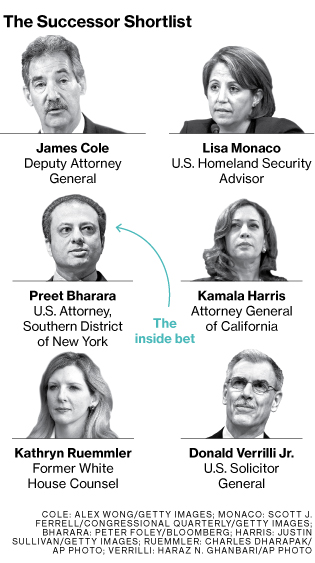 Holder's successor will have to develop a strategy for dealing with the detainees who remain at Guantanamo Bay. A military justice process that was supposed to determine their fates has dragged on for a decade. Holder hasn't set out a clear policy for handling lower-level foreign terrorism suspects who remain in military custody, many of whom haven't been formally charged. With a new war under way in Iraq and Syria against the militant group Islamic State, Holder's replacement will also be left to clarify how far the CIA and the U.S. Department of Defense can go in using drones to attack suspected terrorists, including U.S. citizens allied with Muslim extremists.
On the financial-fraud front, Holder balked at pursuing criminal charges against even a single top banker in the wake of the 2008 financial collapse. During Senate testimony in 2013, he sounded strangely helpless. "Some of these institutions have become too large," he said. "It has an inhibiting impact on our ability to bring resolutions that I think would be more appropriate." Observers with a sense of history knew Holder, who served as a deputy attorney general during the Clinton administration, was haunted by his contribution to a Justice Department policy that encouraged criminal prosecution of corporations as a stiff form of deterrence. That was applied most notably in the wake of the Enron scandal to the auditing firm Arthur Andersen, which collapsed after being indicted in 2002, costing thousands of employees their livelihoods.
Holder's Justice Department did extract guilty pleas from Credit Suisse and BNP Paribas as well as massive civil settlements from Bank of America, JPMorgan Chase, and other Wall Street titans implicated in the mortgage-securities debacle. His refusal to pursue criminal charges against any of Wall Street's most powerful individuals may turn out to be one of the most significant and disappointing elements of his bequest to the Justice Department.
Holder has promised to stay until his successor is confirmed. White House officials murmuring anonymously to reporters indicated Obama would wait until after the November elections to nominate a replacement. Then the president will have to choose whether to seek confirmation from a lame-duck Democratic-controlled Senate or wait until after a new cohort is sworn in next year. Republicans need a net gain of only six seats to grab control of the body and possibly tie up a Justice nominee indefinitely. Given the battering Holder has endured on the Hill, it seems likely whoever follows will suffer prolonged harassment of a similar nature.
BOTTOM LINE -
The bottom line: Attorney General Eric Holder has been praised for promoting civil rights and criticized for prosecuting leaks.
Before it's here, it's on the Bloomberg Terminal.
LEARN MORE