Emaar Malls Rises as Much as 21% in Biggest Dubai IPO in 7 Years
Sarmad Khan and Arif Sharif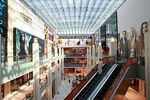 Emaar Malls Group PJSC jumped as much as 21 percent on its first day of trading following an initial public offering last month that was the largest in Dubai since 2007.
The unit of the United Arab Emirates' biggest-listed developer, Emaar Properties PJSC, climbed to as high as 3.50 dirhams before closing at 3.25 dirhams. About 535 million shares were traded. Dubai's benchmark DFM General Index, the second-best performer this year among more than 90 indexes tracked globally by Bloomberg, dropped 1.7 percent to the lowest since Sept. 10.
"We weren't expecting anything less from the Emaar Malls debut," Ahmed Shehada, the Abu Dhabi-based head of advisory and institutions at NBAD Securities LLC, said by e-mail. "The blue-chip name overshadows any valuations and its performance reflects Emaar's underlying ownership of the company."
Companies are weighing IPOs after a rally in the U.A.E.'s equity markets, with Dubai's benchmark index rising 47 percent in 2014. Marka PJSC, which ended the Dubai Financial Market's five year IPO drought with a sale in April, started trading a week ago. Amanat Holdings, a healthcare and education company under formation, intends to offer shares this month.
Emaar, Dubai's only listed developer to survive the property crash without an annual loss, may IPO its hotels unit in the first half of next year, and will have a "better picture" of the plans next month, Chairman Mohamed Alabbar told Sky News Arabia today.
FTSE Global
Emaar Properties sold a 15 percent stake in its unit last month for $1.58 billion, or 2.9 dirhams a share. The company lost 4.7 percent to 11.15 dirhams, paring its gain this year to 61 percent.
"The market overall is following on the weakness we've seen leading into the Eid holidays, which is natural," Amer Khan, senior executive at Shuaa Asset Management in Dubai, which oversees more than $300 million in assets, said by e-mail. "Emaar held up well over the past week in anticipation of the malls unit listing, and with that out of the way some investors are clearly booking gains."
Emaar's malls unit listing is the second in eight days on Dubai's exchange. Marka, the high-end retail operator whose IPO was 36 times oversubscribed, has risen 36 percent since it began trading on Sept. 25 to 1.36 dirhams.
Emaar Malls could qualify for a fast track entry to FTSE's Global Equity Index Series at the close of business on Oct. 9, the index provider said last month. FTSE will confirm the company's eligibility using today's closing price.
Before it's here, it's on the Bloomberg Terminal.
LEARN MORE