Chinese Tap Singapore Wealthy in Record Bond Sales: Asean Credit
Tanya Angerer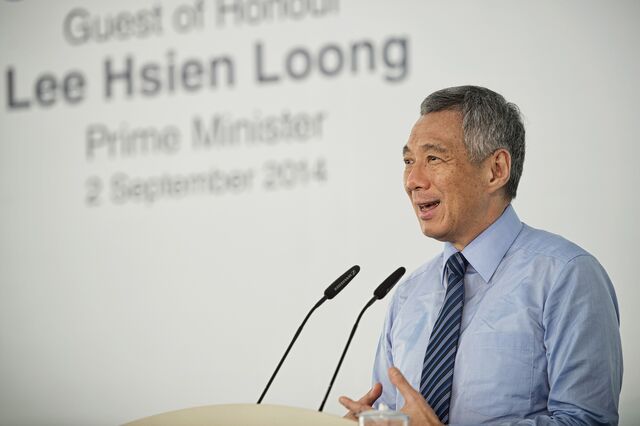 Singapore's bond market is getting a boost from Chinese borrowers tapping the island's millionaires for record amounts at rates almost 30 percent cheaper than home.
Private investors in Singapore took almost all of the S$380 million ($299 million) of local dollar-denominated notes sold by mainland Chinese companies excluding banks last month, according to people familiar with the matter. Offerings in the currency by all Chinese borrowers rose to S$1.7 billion this year, almost double such sales for the whole of 2013, according to data compiled by Bloomberg.
China's issuers are increasingly targeting Singapore's surging millionaire base to raise funds amid record borrowing costs at home. Debut issues from offshore companies rose to 10 in 2014 compared with none five years ago, supporting a market that makes up just 20 percent of bond sales in the Asean region compared with about 32 percent each for Thailand and Malaysia.
"The future growth of Singapore's bond market is dependent on making itself relevant to offshore issuers and investors, over and above the domestic market," Clifford Lee, Singapore-based head of fixed income at DBS Group Holdings Ltd., the island's top bond arranger, said in an interview. "It's natural for Chinese issuers to sell Singapore dollar bonds as they continue to grow, as there's the appeal of further diversification in an open and transparent capital market."
Slowing China
Yields on yuan-denominated bonds are averaging at a record high of 5.87 percent this year, according to a Bank of America Merrill Lynch index, as China faces its slowest growth since 1990, plummeting deposits and rising soured debt amid a property slump. The average coupon on Singapore-dollar bonds in the same period is 4.16 percent, Bloomberg-compiled data show.
Far East Horizon Ltd., a financial unit of China's state-owned Sinochem Group, sold S$200 million of 4.25 percent five-year notes on Sept. 24, with private banks and individual investors buying 87 percent of the securities, according to a person familiar with the offering.
Zhengzhou-based China Coal Solution Singapore Pte. Ltd.'s debut sale of a S$180 million note the previous week was 91 percent bought by private banks, a separate person said.
"Part of the appeal is the strength of the Singapore dollar, which is why people invest their money here," Adeline Tan, a Singapore-based analyst at UOB Asset Management Ltd., said in an interview. "That's the main reason why Singapore is successful as a private banking hub and investment center."
Millionaire Hub
Singapore's dollar was at $1.2732 at 3:10 p.m. local time. The currency's three-month implied volatility was at 4.56 percent at the end of September, the lowest among Southeast Asia's biggest economies, data compiled by Bloomberg show.
The island has 151,000 millionaires, or 2.8 percent of its population, according to a survey by London-based Spear's magazine and consultancy WealthInsight. It ranks eighth globally behind cities including Monaco, London and New York.
Asia's second-smallest country after the Maldives will be home to almost 5,000 people with $30 million or more in assets excluding their principal residence by 2023, a 55 percent gain from 2013 and trailing only London globally, according to a March report from Knight Frank LLP.
Of the 10 offshore corporate borrowers that issued debut Singapore dollar notes this year, China Coal Solution and Ping An Insurance Group Co. of China Ltd. were from the world's second-largest economy. First-time sellers from other nations included Australian child-care provider G8 Education Ltd. and Korea-based motorcycle seller Kolao Holdings.
Flexible, Friendly
"The market is flexible on size and on tenors at the shorter end of the curve," said Danny Tan, a Singapore-based fund manager at Eastspring Investments Ltd., which controls about $115 billion. "Singapore is a friendly market for issuers and investors compared to other Asian countries."
Ties between Singapore and China go beyond bond markets. The island's Prime Minister Lee Hsien Loong mentioned a third possible venture between the governments on "mega" industrial park projects, the Business Times reported Sept. 19 citing Lee.
China became Singapore's largest trading partner last year, with bilateral trade growing to $92 billion last year from just $4.2 billion in 1990, Lee said in a speech last month. More than 5,200 Chinese companies have a presence on the island, which was China's largest foreign investor in 2013, he said.
"As of today, Singapore has the deepest and most efficient local currency bond market in Asia, offering most flexibility in sizes and tenors," said DBS's Lee. "If the markets stay open and the pricing works, we'll definitely see more Chinese issuance."
Before it's here, it's on the Bloomberg Terminal.
LEARN MORE