Chicago's River North Tech Hub Draws Companies to Former Skid Row
River North's historic buildings draw Yelp and other big names
By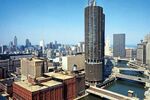 Chicago's River North, a district once notorious for its prostitutes and dilapidated warehouses, is now home to fashionable apartment buildings and restaurants—and one of the hottest office markets in the U.S. Yelp, the San Francisco-based business review website, is among the latest companies to lease space in the area, joining daily deals website Groupon, which has its headquarters at 600 W. Chicago Ave. "The River North activity is just off the charts," says Tiffany Winne, a senior managing director at commercial brokerage Savills Studley in Chicago.
Startups and expanding tech companies are cramming into River North, drawn by its historic buildings and easy access to mass transit, giving the neighborhood the lowest office vacancy in downtown Chicago. Office rents in the district have jumped 26 percent in the past two years, the third-largest increase for a U.S. neighborhood where high-tech companies cluster, behind Redwood City on the San Francisco Peninsula and Manhattan's Midtown South, according to brokerage CBRE Group.
River North was a manufacturing center for the first half of the 20th century but declined in the 1960s as warehouse businesses moved elsewhere. Like other neighborhoods that became high-tech magnets, River North was considered fringe and had lower rents than surrounding areas, according to Colin Yasukochi, director of research and analysis for CBRE in San Francisco. It has the kind of industrial-era buildings with brick-and-timber construction that appeal to technology tenants.
Developer Albert Friedman started buying buildings in the district in the 1970s, renting first to artists and photographers, when the neighborhood was "pretty dangerous"—a skid row with drug dealing and prostitution, he says.
Friedman Properties owns and manages more than 4 million square feet of commercial real estate in Chicago, much of it in River North, where the company redeveloped the Reid Murdoch Center, a red-brick landmark that houses the headquarters of Encyclopaedia Britannica.
The neighborhood's mix of refurbished industrial buildings and new construction includes apartments and condos, cafes, nightclubs, and hotels such as the Hyatt Place Chicago/River North. "There used to be a time when you didn't want to walk through River North after dark," says Sharon Romack, chief executive officer of the River North Business Association. "Now River North is the place to be after dark."
Yelp rented space in the Mart, a 3.6 million-square-foot art deco property once known as the Merchandise Mart. Vornado Realty Trust, which owns the building, recently changed the name to attract more high-tech companies.
Some businesses are already finding the area too expensive. SIM Partners, which helps companies get more exposure online, began seeking space about 18 months ago, according to Jay Hawkinson, senior vice president of emerging products. "When we started, River North was the place to be for tech," he says. Unable to find affordable space, SIM Partners ended up moving its headquarters from Evanston, Ill., into 14,500 square feet at 30 N. LaSalle St. in the Loop. Hawkinson says the rent, in the low $30s per square foot, is a few dollars less than what the same space would have cost in River North.
Before it's here, it's on the Bloomberg Terminal.
LEARN MORE