Can Renault Keep Dacia, Its Romanian Auto Brand, Cheap?
The inexpensive brand faces rising wages at its Romanian factory
By and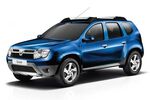 When Viorel Oprea started working at the ragtag Dacia auto factory in communist Romania in the 1980s, it was a sweatshop in the summer. In the winter, Oprea had to layer three coats to stay warm. Today the factory is bright and spotless, air-conditioned in the summer and warm enough in the winter that workers sport shirtsleeves on even the coldest days. "It's like we've gone from hell to heaven," says the 52-year-old machinery repairman.