Biotech Company Retrophin Fired CEO Because of Stock Irregularities
Paul M. Barrett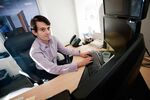 On Wednesday, I wrote about the abrupt ouster of biotech company chief Martin Shkreli, a former short seller who took the ultimate long position—starting Retrophin, a publicly traded drug manufacturer. At Bloomberg Businessweek, we've taken a special interest in the precocious Shkreli, 31. We've wondered whether, after years of betting on biotech stocks to fall, he'd undergone a conversion or was using his knowledge to game the field.
Now I've got some specifics on why Retrophin's board of directors unceremoniously dumped the executive on Tuesday. According to people familiar with the company, the board concluded that Shkreli had committed stock-trading irregularities and other violations of securities rules. The violations included grants of Retrophin stock to certain recipients in the absence of a shareholder-approved distribution plan, failures to disclose stock grants, and grants of stock above limits imposed by the plan that was eventually put in place, the people said. Shkreli has not returned phone messages seeking comment.
Retrophin is expected to issue a public statement and regulatory filing tomorrow morning, in which it will explain how it proposes to bring itself back into compliance. One step company executives are taking is to surrender certain stock-option grants made while Shkreli was still in the chief executive's chair, the people familiar with the company said.
Stephen Aselage, Retrophin's chief operating officer, has temporarily taken over as CEO until the board chooses a long-term replacement for Shkreli. In an interview, Aselage, 63, said the announcement scheduled for tomorrow will lay out a plan for bringing Retrophin "into Nasdaq compliance" and will include information on personnel appointments "in the near-term time frame." Aselage said that infractions related to Shkreli's tenure were "not material" in financial terms. At midafternoon on Thursday, Retrophin's shares were trading 12.5 percent higher, at $9.70.
"Martin is smartest guy I ever worked with," Aselage hastened to add. "He created this company. He's done a lot of good things and created a lot of value."
A self-trained biologist, Shkreli had demonstrated a penchant for grandiosity and immature behavior. After his ouster, he used his Twitter feed to declare:

Shkreli's erratic conduct allegedly also included personal harassment of adversaries. Timothy Pierotti, a former employee Retrophin sued in New York state court, said in a sworn affidavit that Shkreli used social media and old-fashioned letters to intimidate not just Pierotti, but also his wife and family members. In the January 2014 affidavit, Pierotti quoted from a letter sent to his wife by Shkreli, in which the then-CEO said: "I hope to see you and your four children homeless and will do whatever I can to assure this."
In December 2013, Pierotti had filed a formal complaint against Shkreli with the Summit (N.J.) Police Department, where Pierotti and his family live. Public records from Summit police indicate that an officer contacted Shkreli by telephone and warned the former executive to stop bothering the Pierottis.
Reached by telephone today, Pierotti said the Retrophin lawsuit against him has been settled out of court to his satisfaction and that a nondisclosure agreement barred him from saying anything more.
It is now Retrophin that will find itself the target of civil litigation. A shareholder suit was filed today against the company in federal court in New York, making reference to Shkreli's ouster, Aselage confirmed.
Before it's here, it's on the Bloomberg Terminal.
LEARN MORE