Indonesian Demand for Big Cars May Blunt Widodo Fuel Plan
Andrew Janes and Fitri Wulandari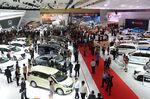 At the Indonesia International Motor Show last week, car marketer Pankaj Jain didn't have much cause for worry that an impending fuel-price increase by incoming President Joko Widodo would harm sales.
People "buy bigger" in Indonesia, Jain said, raising his voice over the blare of a stereo as thousands inspected the latest models at a show dominated by sturdy sport utility vehicles and boxy multi-purpose cars. "Here, the MPV market is close to 60 percent, while in India it's very small," said the marketing director at Tata Motors Ltd.'s local unit.
The preference for larger cars will probably keep demand for diesel and gasoline elevated in the world's fourth-most populous nation, undermining Widodo's pledge to raise subsidized fuel prices and curb the energy imports that have spurred a near-record current-account gap. Big families, bad roads and rising incomes mean the penchant for gas guzzlers will be hard to break.
"Fuel consumption continues to grow because, first, the number of vehicles is increasing," Ibrahim Hasyim, a commissioner at downstream oil and gas regulator BPH Migas, said in a Sept. 18 interview in Jakarta. "Second, the middle-class is growing. Traffic jams are getting worse. That's wasting fuel, contributing to more fuel consumption."
Capital Outflows
The challenge for Widodo, known as Jokowi, will be raising fuel prices high enough to narrow a current-account deficit that's making Indonesia vulnerable to capital outflows as the U.S. nears interest-rate increases. The rupiah fell 4 percent against the dollar in September, the most after Japan's yen among 11 Asian currencies tracked by Bloomberg.
"Fuel is such a necessity into the production process and into daily lives, so over the short term demand is definitely quite inelastic," Daniel Wilson, an economist at Australia & New Zealand Banking Group Ltd. in Singapore, said in a Sept. 22 interview. "A 1,500 rupiah ($0.12) increase will not have much impact on the current account," he said, citing a 23 percent adjustment that he says Jokowi can implement without going through parliament.
Jokowi, who takes office Oct. 20, said this week the timing and magnitude of the increase is still being calculated, even after a member of his team spoke of a possible 46 percent adjustment by November.
With parties loyal to the defeated presidential candidate, Prabowo Subianto, currently controlling more than half of the parliament, political resistance could complicate any change in the fuel policy. The Jakarta Composite index fell 2.3 percent as of 2:09 p.m. in the city, set for the steepest drop since May 20, after a member of one of the parties supporting Prabowo was named as parliamentary speaker.
Best Case
A 1,500 rupiah increase could be absorbed within the budget currently, while a 3,000 rupiah increase is a "best-case scenario," said ANZ's Wilson. Jokowi probably would have to go to parliament for a more-than 2,000 rupiah change, to get a vote on an assistance package, and "he might not be able to easily push that through," he said.
Neighboring Malaysia raised fuel prices today in the first increase in more than a year as Prime Minister Najib Razak seeks to narrow that country's budget deficit.
Indonesia has been subsidizing fuel since the first oil price shock in the 1970s and kept prices at less than $0.20 per liter until 2005, according to a World Bank report published in March. The price of subsidized gasoline at the pump was most recently raised in 2013, to 6,500 rupiah per liter from 4,500 rupiah. PT Pertamina's unsubsidized price is currently 11,800 rupiah per liter in Jakarta.
Estimated Increase
Jokowi could raise fuel prices 15 percent to 30 percent in early 2015, according to economists at Morgan Stanley, ANZ, PT Bank Mandiri and DBS Group Holdings Ltd. Every 10 percent increase in the retail fuel price would reduce the current-account deficit by 0.14 percent of gross domestic product, according to an Aug. 26 research note by Morgan Stanley analysts including Deyi Tan in Singapore.
The shortfall in Indonesia's broadest measure of trade was 4.27 percent of GDP in the second quarter, near the record 4.47 percent in the same period of 2013.
Anything less than a 40 percent fuel price rise would be insufficient to narrow the current-account gap, said PT Bank Central Asia, countering the central bank's estimate that a 15 percent increase in gasoline costs would narrow the current-account gap by as much as $1 billion.
Aging Wells
Crude output from Indonesia's aging oil wells has fallen more than 50 percent since the mid-1990s as a shifting regulatory framework deterred investors from developing new fields. At the same time, fuel demand has surged as the population rose and Southeast Asia's biggest economy expanded.
Indonesia's gasoline imports will rise to 354,000 barrels a day in 2015 from 312,000 this year, without a fuel price increase, said Suresh Sivanandam, a senior downstream analyst at Wood Mackenzie Ltd., an energy intelligence company.
"We still believe gasoline demand in Indonesia will grow on the basis there will be a rise in income levels," he said in a Sept. 23 interview from Singapore. "We don't see any big changes to the trade balance because we're not seeing new refineries coming from Indonesia."
Car Sales
Domestic car sales averaged 104,601 units per month in the second half of last year following the last gasoline-price increase, compared with 100,372 in the first six months, according to figures on PT Astra International's website. Sales have averaged 103,800 a month this year.
On Indonesia's most-populous island of Java, where 143 million people live in an area about the size of Illinois, gridlock is commonplace. Worsening traffic makes people more likely to opt for bigger vehicles because they have to spend more time in them, said Aditya Srinath, a stocks analyst who covers the auto industry at JPMorgan Securities Indonesia in Jakarta.
Tata Motors' Jain says he thinks gradually increasing the fuel price will eventually make Indonesians more likely to buy smaller cars. It will also save the government a lot of money, with 344.7 trillion rupiah set aside for fuel and electricity subsidies in next year's budget, a quarter of total spending. Yet weaning Indonesians off their addiction to cheap fuel will take time.
"What we saw from last year to this year, is that Indonesia's subsidized fuel demand has actually proved quite inelastic," Srinath said in a Sept. 18 interview. "So I don't expect another increase to have a significant impact on fuel demand" or the current account, he said.
(An earlier version of this story corrected Najib Razak's title to prime minister from president in the second paragraph after Best Case sub headline.)
Before it's here, it's on the Bloomberg Terminal.
LEARN MORE