Greek Bond Rally Masks Lingering Bailout Concern
David Goodman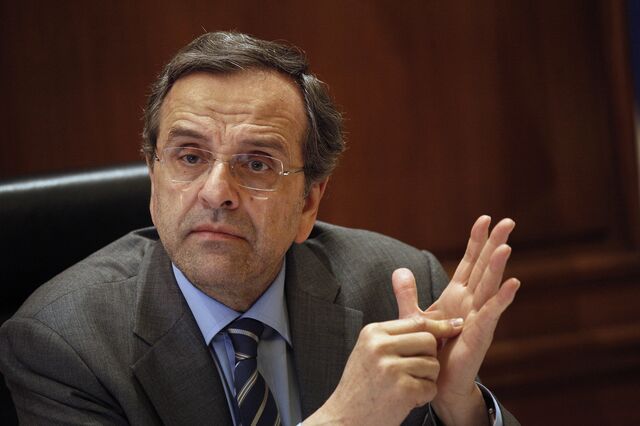 Greece is rediscovering how ruthless fixed-income investors can be.
The nation, whose market return in April embodied an easing of the euro-area debt crisis, saw its sovereign securities tumble 5.7 percent last quarter as the rest of the region's bonds rallied. Behind the selloff: a growing concern the government's proposal to become self-financing will leave the country's budget controls in jeopardy.
Prime Minister Antonis Samaras is seeking to reduce reliance on Greece's 240 billion-euro ($303 billion) bailout that's based on loans accompanied by conditions for financial reform. While euro-area support expires this year, the International Monetary Fund is scheduled to continue disbursing aid until the first quarter of 2016.
"Greece's plans to exit the bailout early have raised some concerns," said Jan von Gerich, a fixed-income analyst at Nordea Bank AB in Helsinki. "I would not put Greece in a basket with other European government bonds as it's a special case. It's at a totally different yield level so the investor base is totally different."
Greece became a byword for Europe's woes during the four-year debt crisis as its spiraling borrowing costs and surging unemployment threatened to spread to other nations and even rupture the currency bloc. That made its recovery all the more remarkable. As financial stress eased, Greek securities were the region's best performers in 2012, 2013 and the first half of this year, Bloomberg World Bond Indexes show.
Volatile Yield
Even after the rally, Greece's 10-year yield is about double that of Portugal, the second-highest in the euro region.
That yield jumped 68 basis points, or 0.68 percentage point, last quarter to 6.63, the biggest increase since the second quarter of 2012. The rate touched 6.82 percent yesterday, the highest since May, climbing from a low of 5.52 percent on Sept. 8, the least since January 2010. The yield declined 17 basis points to 6.47 percent today at 2:43 a.m. London time.
The third-quarter selloff was the result of a particular hedge fund's decision to reduce its exposure to Greece, a senior Greek finance ministry official told reporters in Athens yesterday, without mentioning the name of the fund. Greece's debt market is shallow, and that's the reason fluctuations are so steep, according to the official, who asked not to be named in line with policy.
Investors' Glare
The country's bonds are again back in the glare of investors and international creditors. Greece's rescue program will be a topic of discussion in coming weeks, German Chancellor Angela Merkel said following talks with Samaras in Berlin last week. Officials are this week meeting with the troika of creditors -- the IMF, the European Commission and the European Central Bank -- to review its progress before another round of talks on repayment terms for its public debt.
"In Greece you have these periodic bouts of volatility," said Luca Cazzulani, a senior fixed-income strategist at UniCredit SpA in Milan. "What is going on is a lot related to the troika. It's creating a little bit of pressure."
The selloff last quarter also extended to equities as the Athens Stock Exchange Index lost 13 percent in the period amid speculation that bad loans of almost 80 billion euros at Greek banks will require them to tap investors for additional cash.
The results of a euro-area health check on banks, conducted by the ECB, are due at the end of this month.
Syriza Party
Adding to the tension, Alexis Tsipras, leader of the opposition Syriza party, is seeking to capitalize on Samaras's struggle to revive the economy, as Greek voters blame their woes on the prime minister and his cooperation with the troika. Tsipras aims to force a snap election in the first quarter of 2015, and opinion polls show his party would probably win. One policy he favors is writing off some of Greece's debt.
"There are a couple of issues which have been long known about which are now a lot closer than they were," Gareth Colesmith, a senior money manager in London for Insight Investment Management Ltd., with more than $460 billion under management. "The main one is politics. Given that Syriza are ahead in the polls, that is a risk the market is looking at."
ECB Effect
Greek securities declined last quarter even after the ECB unexpectedly cut interest rates to a record and said it would buy asset-backed securities to boost the economy, moves which pushed bond yields across most of the region to record lows. Spanish securities were the currency bloc's best performers in the third quarter, returning 3.7 percent, followed by those of Portugal and Belgium. Central bank policy makers next meet tomorrow.
Greek bonds remain the best-performing securities in the Bloomberg indexes this year, having earned 22 percent through yesterday. That's on top of returns of 103 percent in 2012 and 48 percent in 2013, the indexes show.
The bonds will resume their rally as credit-rating companies raise their assessments of the nation, according to Jens Peter Soerensen, chief analyst at Danske Bank A/S in Copenhagan. Standard & Poor's, Moody's Investors Service and Fitch Ratings all rank Greece below investment grade, meaning some funds are barred from owning them.
"One of the key things that has been helping Ireland and Portugal has been the upgrades -- moving closer to investment grade," Soerensen said in a Sept. 29 phone interview. "We still have a way to go for Greece, so the investor base is still quite small. But the upgrades are coming. Of course it takes some time. Looking at it, I am pretty bullish."
Greece's April sale of bonds, the first since it was frozen out of markets and sought an international bailout, raised 3 billion euros and drew orders for almost seven times that amount. This week, the price of those five-year securities dropped below par for the first time since mid-August. For now, the nation may have to contend with those vigilante bond investors once more.
Before it's here, it's on the Bloomberg Terminal.
LEARN MORE