Aid Workers Caught in Crossfire of Civil War in South Sudan
Ilya Gridneff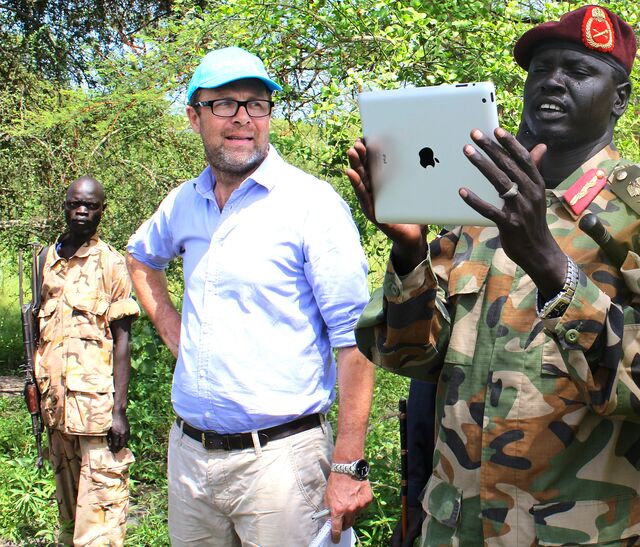 When the United Nations World Food Programme's head in South Sudan, Joyce Luma, landed at the airport in the capital after a visit behind rebel lines, one of her security officers told her to remove a necklace residents of the area had given her.
"It's a Nuer gift and we've been in opposition territory," the Romanian former soldier told her at Juba's airport. "Take it off. Otherwise, problem." Luma quickly removed the necklace.
Since fighting erupted in South Sudan in December, aid agencies that once planned to help develop the world's newest nation find themselves under pressure from both the government and the rebels as they care for millions caught in a civil war fueled by ethnic hatred. The violence started after President Salva Kiir, an ethnic Dinka, accused former Vice President Riek Machar, a Nuer, of fomenting a coup attempt, a charge he denies.
The conflict in the oil-producing nation, which gained independence from Sudan in 2011, has displaced almost 2 million people and left 4 million needing assistance. As it has intensified, aid groups have been accused by both warring parties of supporting their adversaries. A UN helicopter was shot down last month, killing three Russian crewmen, and in January Kiir suggested at a press conference that the UN was attempting to run a "parallel government."
In July, WFP said government forces had arrested and beaten its workers and drivers. Aid agencies have said both sides in the conflict have looted UN warehouses filled with food and medical supplies. Non-governmental organizations have also reported abuses.
Violent Assault
U.K. development charity Oxfam said it has suffered looting, violent assault, car-jackings and theft by armed groups. Last month, five NGO workers were killed because of their ethnicity in the contested Upper Nile state, Tariq Riebl, Oxfam's South Sudan country director, said by phone from Juba.
"It happened without any prior warning and we were all caught off guard," he said. "This is an example of some of the things we are dealing with."
The National Security Service detained George Livio, a public information officer working for the UN Mission in South Sudan, and UNMISS security guard James Tharjath last month and has held them without charge, mission spokesman Joseph Contreras said via e-mail yesterday from Juba.
NGO Regulation
The National Assembly is considering legislation to tighten oversight of non-governmental organizations. It would set up a regulatory body made up of government representatives and appointees to provide guidelines for the operations of NGOs and handle the work-permit applications of their employees. It would carry legal sanctions if groups don't comply.
"We believe the criminal penalties for non-compliance are harsh, that there is a lot of vagueness and room for interpretation in the act that will lead to misinterpretation and unnecessary stifling of activities of civil society and NGOs," U.S. Special Envoy for Sudan and South Sudan Donald Booth said by phone from New York.
While East African mediators at peace talks in the Ethiopian capital, Addis Ababa, and western governments call for the establishment of "relief corridors" to ensure the delivery of assistance, aid officials on the ground focus on face-to-face talks with the combatants to gain permission to reach the civilians caught in the middle of the war.
Food Drops
"Sure this is so-called 'rebel-controlled' territory, but we work with the humanitarian bodies of both sides," Jonathan Veitch, head of Unicef in South Sudan, said during a trip this month to meet the insurgents in Jonglei state. "We have contacts in the government too and we tell them where exactly we're going and what we're going to do."
Under the watchful eyes of a young soldier wrapped in a belt of 54-millimeter metal-piercing bullets and clutching his PKM machine gun, Veitch, WFP's Luma and other officials met rebel commander Gabriel Duop Lam under a tree in the town of Jeich to win approval for UN planes and helicopters to make regular food drops.
"We have to come and talk to these people because they are the one's running the show here," Veitch said. "We don't get involved in the politics."
As his rebel soldiers gripped their Kalashnikovs, General Lam listened to the UN officials making their case for access to the areas he controls.
"We need to be able to make food drops here," Luma said of Jeich, which has swollen with 14,000 people fleeing the violence. "It is vital we have access."
Scarce Roads
The lack of paved roads in the country, which is about the size of the U.S. state of Texas, complicates the task of reaching the hungry, Luma said.
"We've seen trucks completely submerged in mud," she said. "A trip that should take one day takes up to 10 days."
Luma and the other aid officials found Lam, the governor of rebel-held territories in Jonglei, to be sympathetic.
"The people are hungry, they need the UN's food," Lam said in an interview. "Our children need schools and medicine, that's what we fought for at independence. The international community continues to stand with South Sudan."
So far this year, donors have contributed close to $1.2 billion in aid to South Sudan, according to the UN. South Sudan's oil production has fallen by a third to about 160,000 barrels a day since the fighting started, according to the Petroleum Ministry.
More aid will probably be needed.
The UN has said that although famine has been averted this year, the threat will remain in 2015 unless the fighting stops.
"We expect combat to increase in the dry season in some locations early next year," Riebl of Oxfam said. "That means our teams cannot move. They have to hibernate in our compounds and sometimes they have evacuate because the compounds are not safe enough."
Before it's here, it's on the Bloomberg Terminal.
LEARN MORE